Another year has passed and I decided to reward myself with a little trip to TO/NYC for hangin out and to see Rock The Bells, don't forget eatin some amazing food. The expedition started by waking up at 4am to catch a 6am flight to Toronto. Arrived safely and it was time for Puddy and I do some public transportation.
The Bus
The Subway
The Streetcar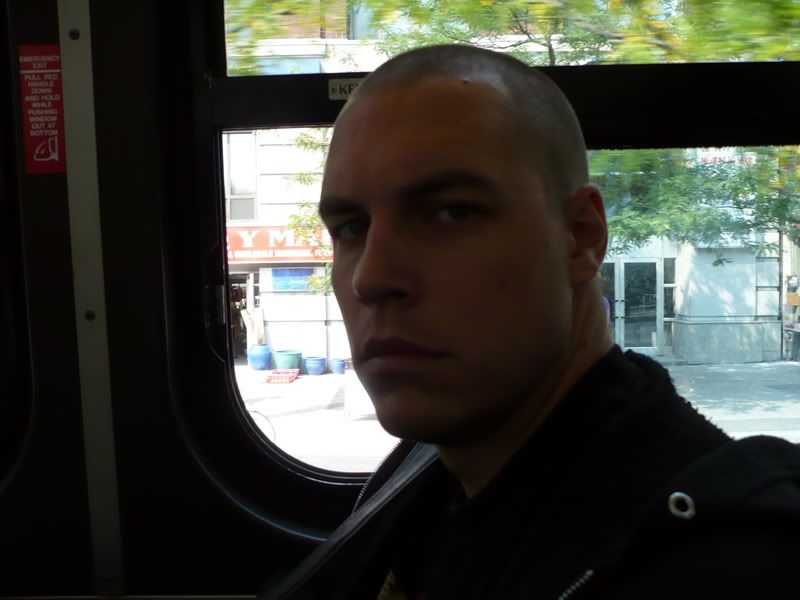 Next Stop...The BO! Coconut shake, veggie duck, crab roll and bean curd with lemon grass were on the menu today. It's nice to see Dave still putting out quaility food!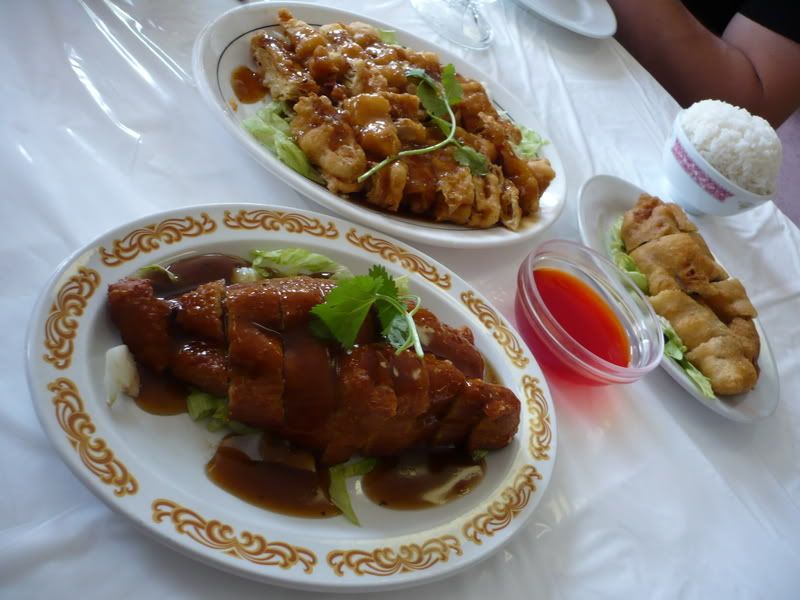 Kurt left us right after eating to go look for an apartment...I'm sure that's a ton of fun in this city.
From here we had to ditch our luggage and all that kinda stuff. Bailey was kind enough to put us up for the night so it was onto his place in little portugal where we got to see the wonders of the bike that pees. It was something else! We then decided it was time to get some dessert and apparently Vegetarian Haven had what we needed. Oddly enough we met Kurt on the way there and had a little threeway split of this Alaskan ice cream cookie sandwich, raspberry pie with vanilla ice cream and apple crumble with pecan ice cream. Vegan desserts on a nice summer afternoon, it doesn't get much better than this.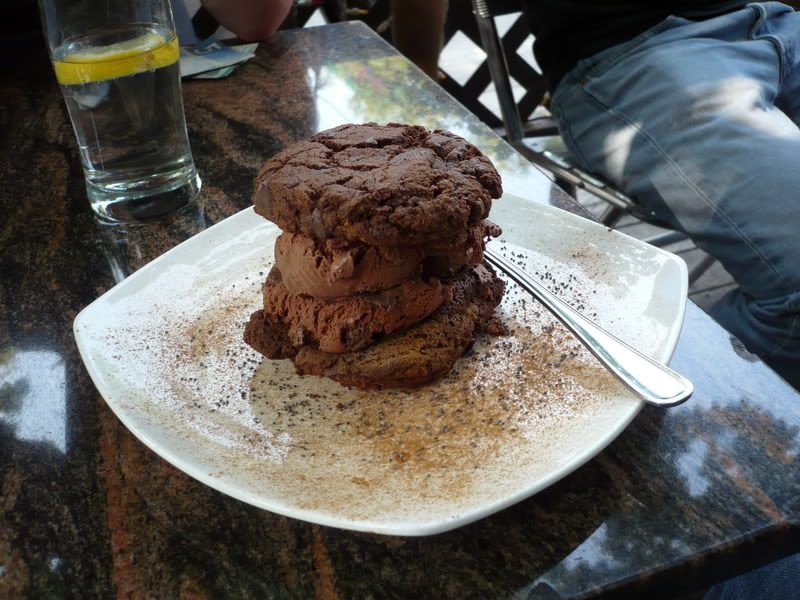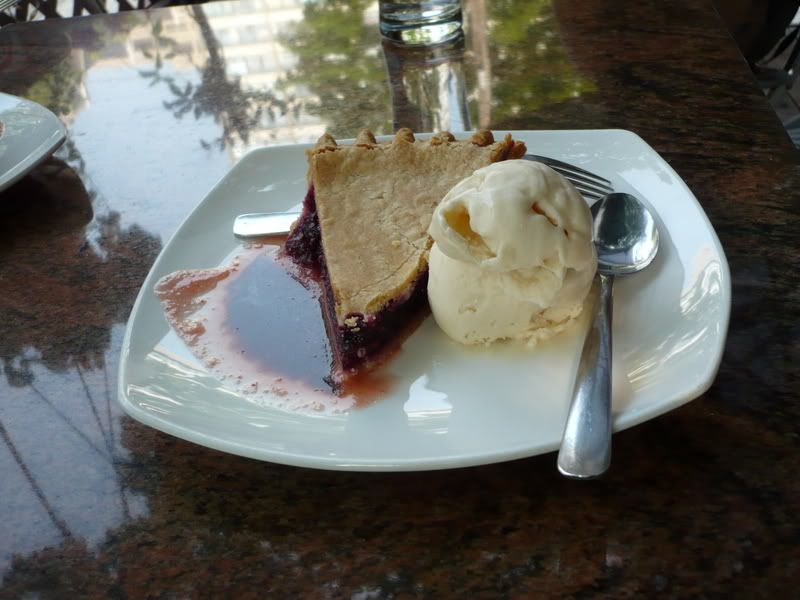 Cristina met up with us here and got to indulge in a couple of these treats. We then took in the sites of Spadina and Queen and our first installment of fun things to do in TO. Sittin on a curb and pissin in a back alley.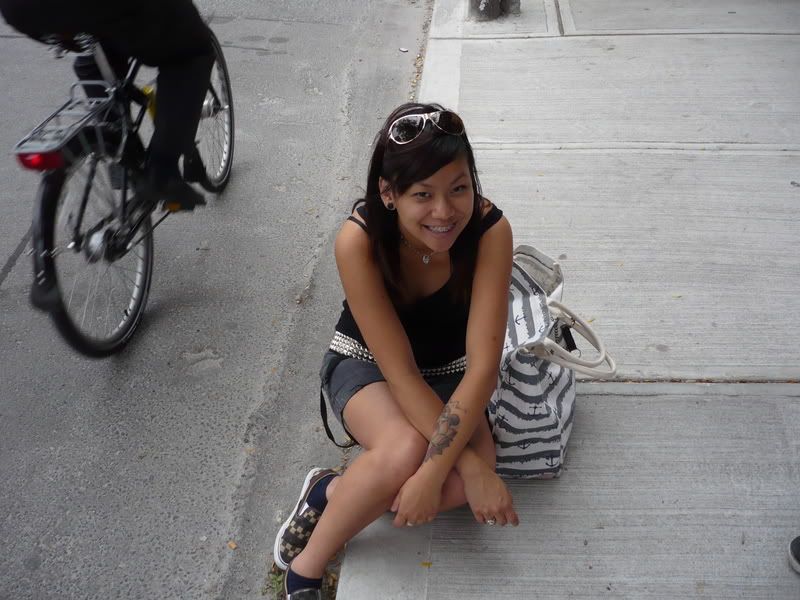 In case you may or may not be wondering, this next picture never really happened because you aren't allowed to take pics in American Apparel. Pop your motherfuckin crotch bitch!!!
There was a bday BBQ at Bailey's in honor of yours truly so it was time to get back there and get ready for my fave summertime way of cooking food, but not before a little pizza by the slice. Potato pizza is surprisingly delicious, the roasted red pepper was good...just not as good. Thank goodness for vegan slices en route to Bailey's.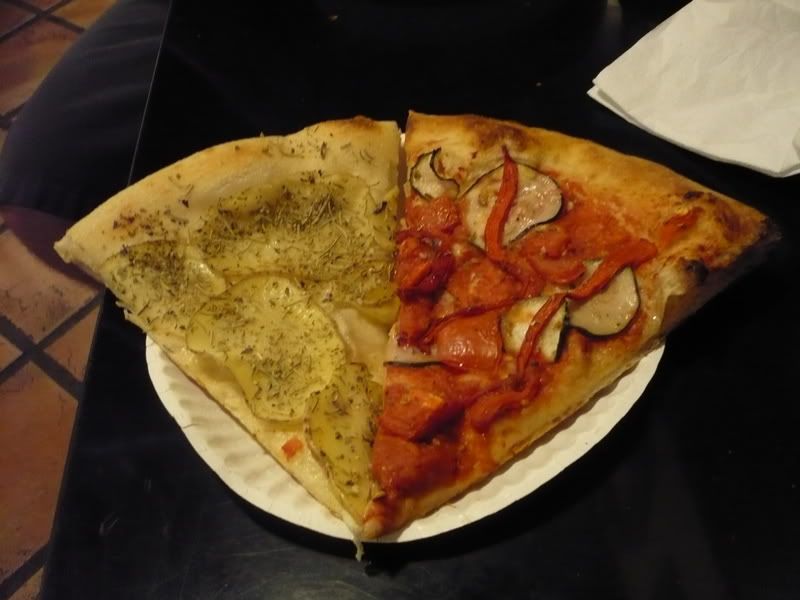 When someone throws me a BBQ it's basically gonna be a great evening no matter what and this was no exception. Corn done a fancy new way on the grill and veggie burgers from Licks were two things I had never experience and pretty glad that I did!
Me loving life (thanks to Cristina for takin this and Mike for supplyin the burgs)
The man that made it all happen!
Sometimes playin air guitar at a BBQ is risky business!
BBQ babes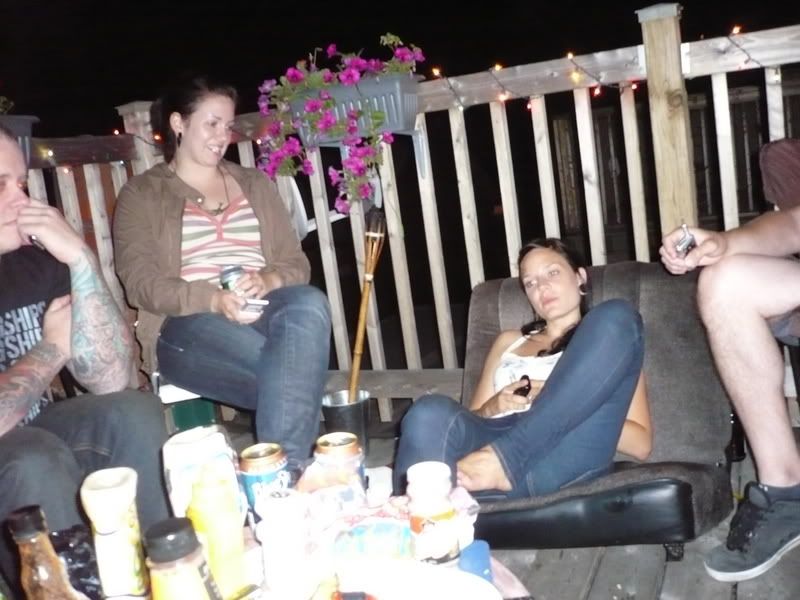 Relaxing is probably the best way to end a good day.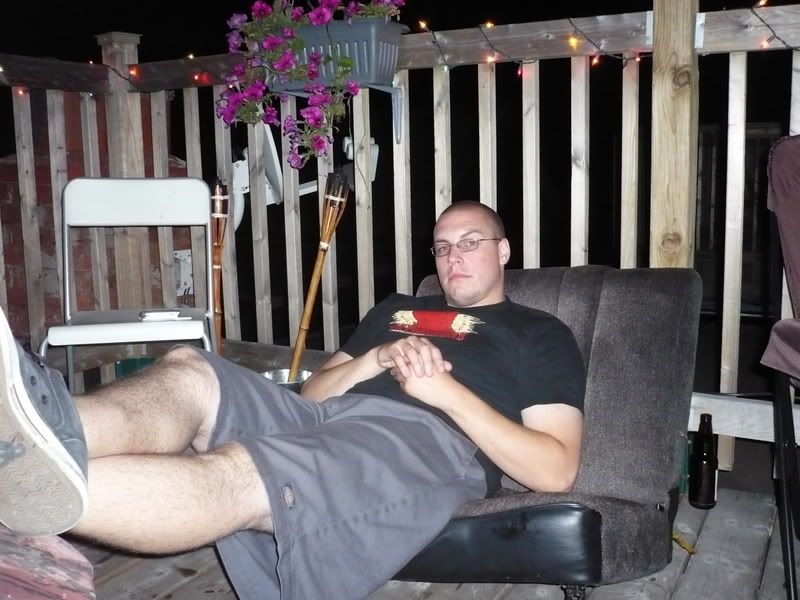 As well as a nice view of the CN Tower from a third floor balcony.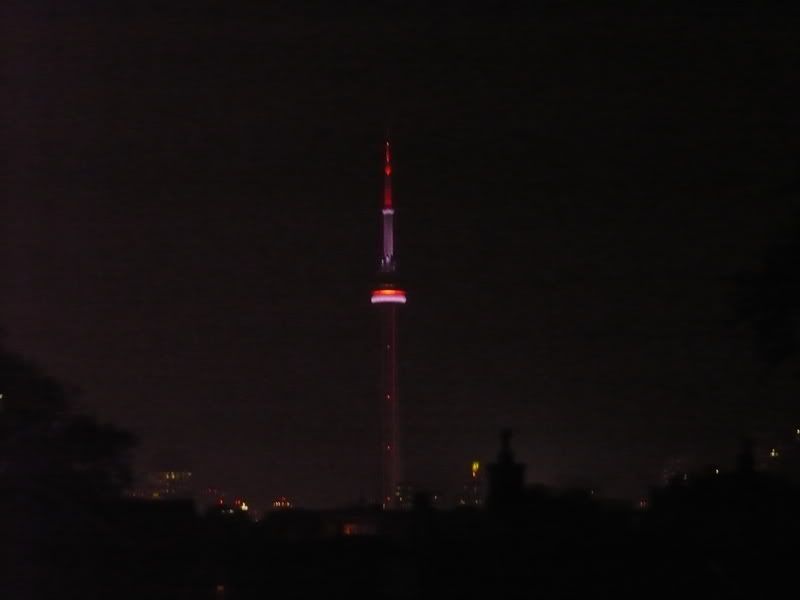 The next day started much like the day before in TO, with a trip to the BO. This time around it was pineapple/coconut and mango shakes, veggie goose, veggie ribs, crispy wontons and eight treasures. Delicious as usual.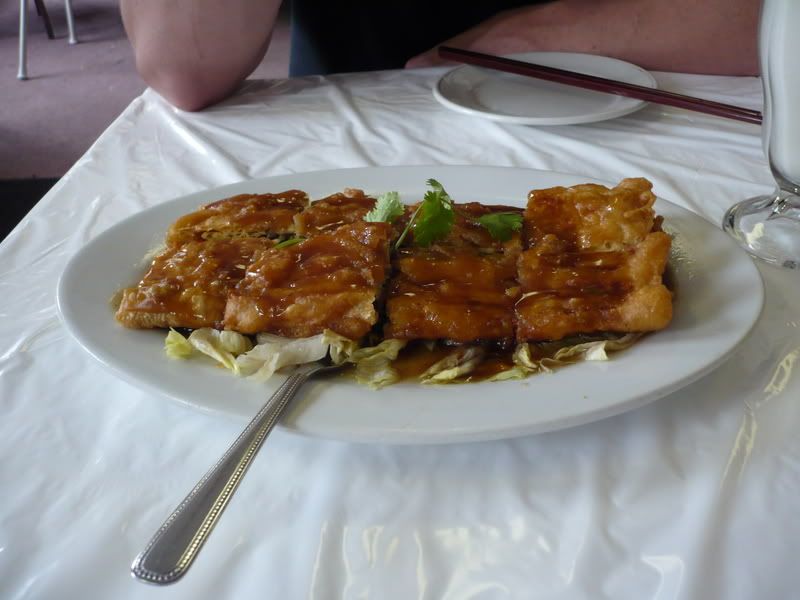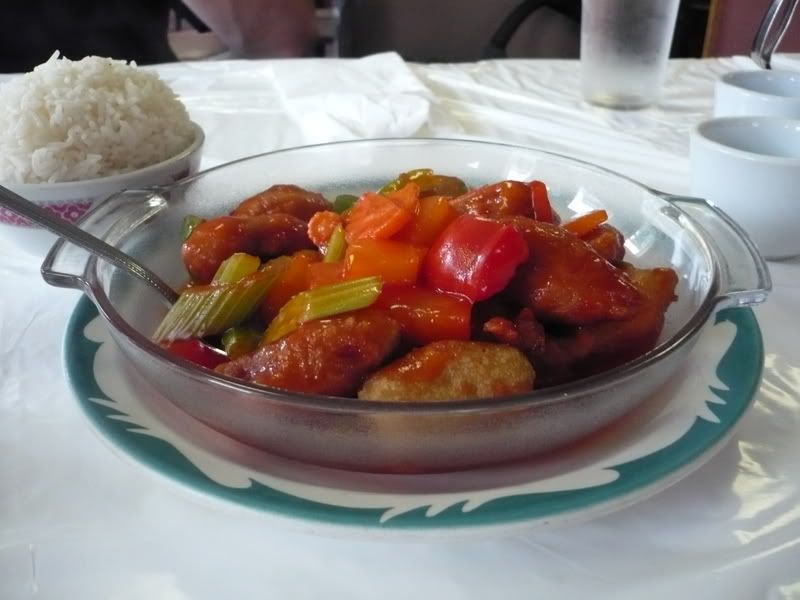 From here it was time for a luggage transfer to Scott and Tara's place for when we got back from NYC. Nothing like carrying around all your bags when its hot and muggy outside. Backpacks aren't the best thing in this situation. Luckily it wasn't the longest trek. What's up Tara?!?! What's up Waffles?!?!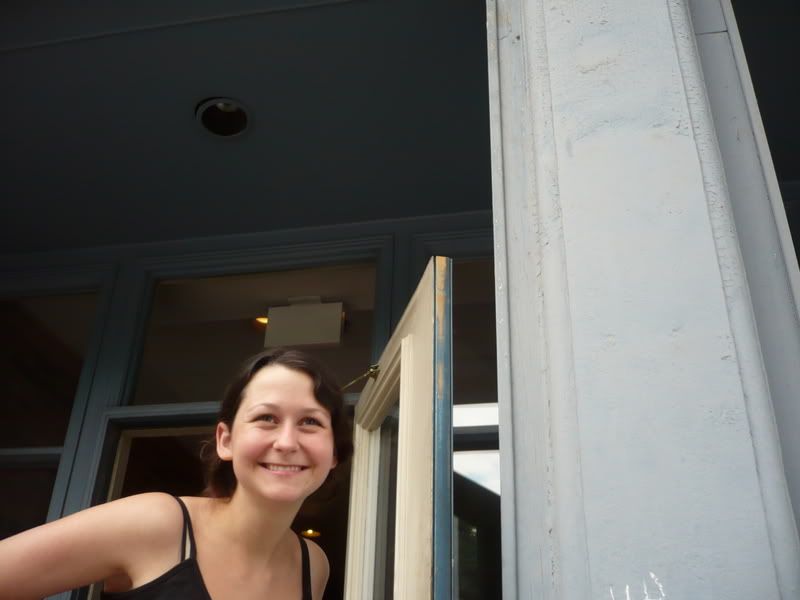 And now...the second installment of fun things to do in TO! Reading in a beanbag chair.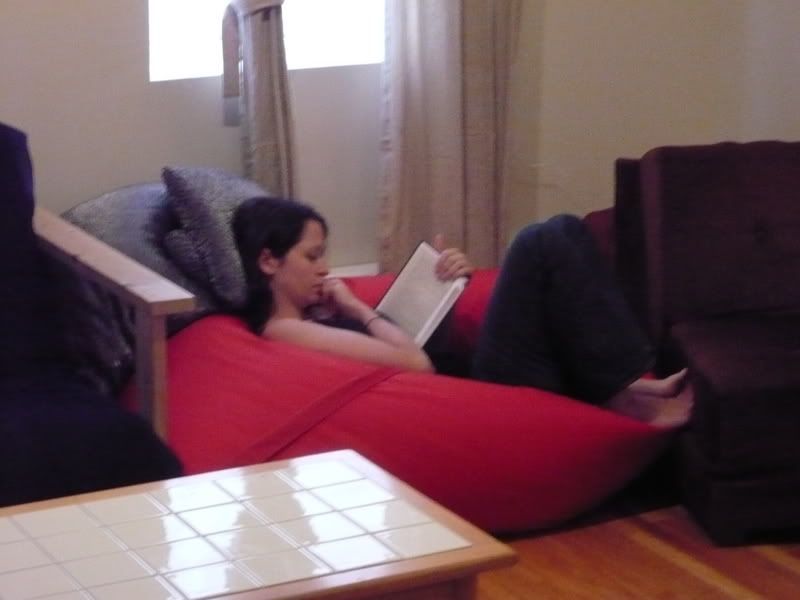 The ghost of Scott then appeared to me...
The new classic Puddy face before eating at some placed called spring roll or spring rolls (not to be confused with the amazing one in Winnipeg). Followed up by some tofu and asparagus dish, looks a bit better than it tasted. This was also right in the middle of Puddy's two worst trip experiences, they aren't up for discussion though.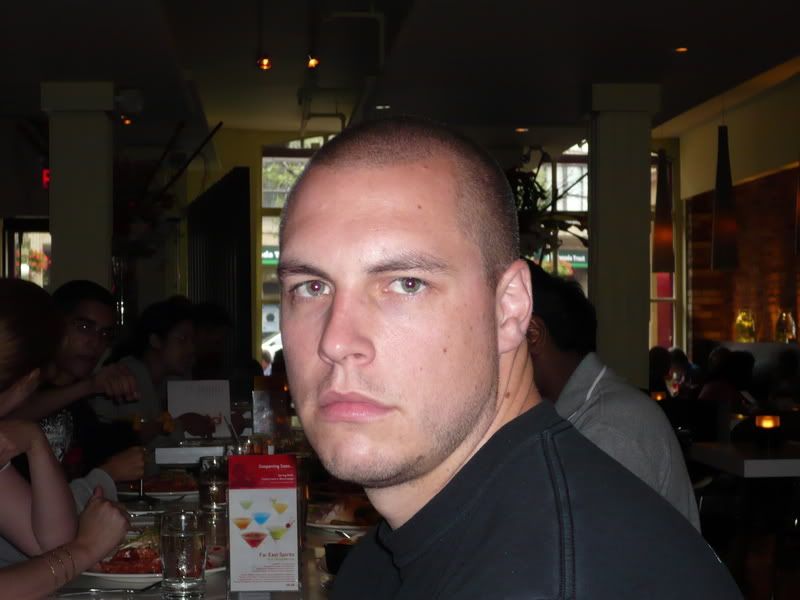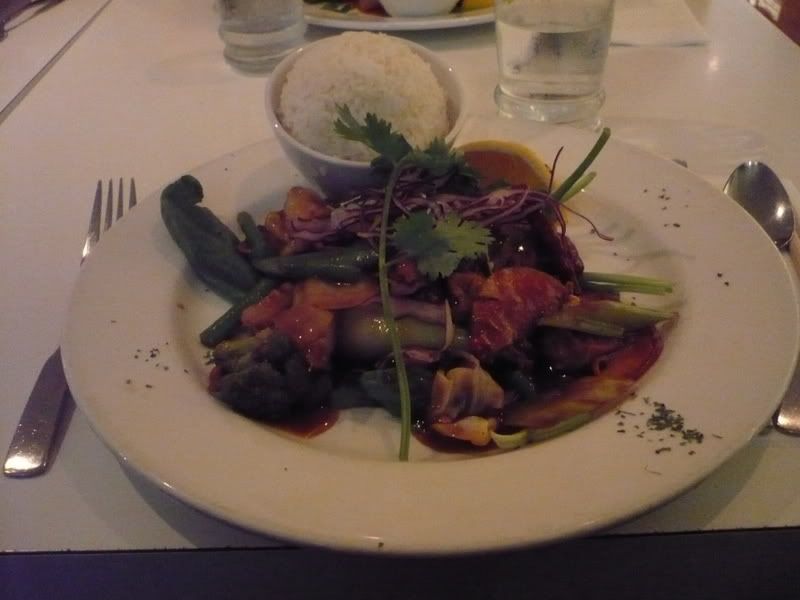 After this we went back to Scott and Tara's to relax a bit before getting on the overnight bus to NYC. The peaced out to see The Simpson's movie and we made our way to the bus depot. Little did we know that shit was gonna be crazy messed up and would have to catch the bus at 1130 instead of the one at 930 and end up being late for rock the bells and missin all openers, which were the reason to go. Next thing ya know we cashed our bus tickets in and are in a cab with a total random we just met on our way to the airport to rent a car and drive to NYC. This is when Mo gets notified and proceeds to send me step by step instructions on how to get to her place in Brooklyn. Mo is my fave new NBF in case anyone happens to be wondering. Now, the road crew!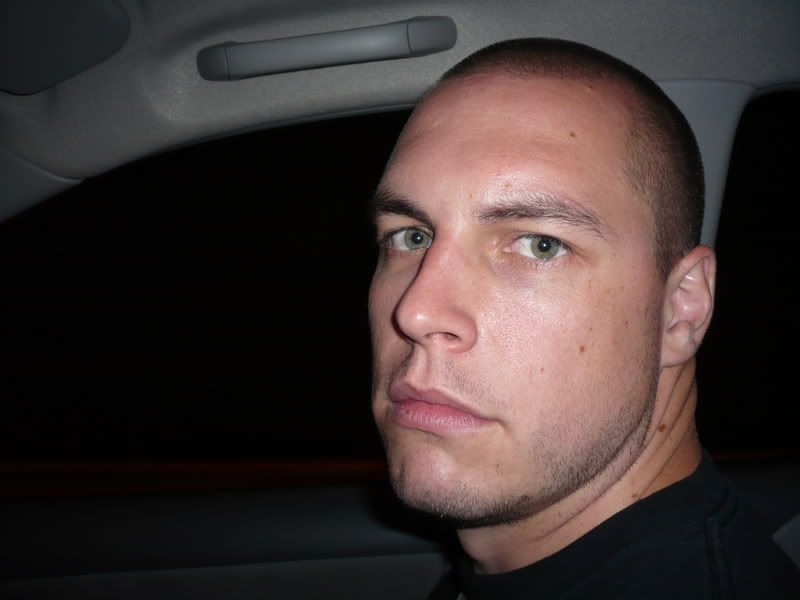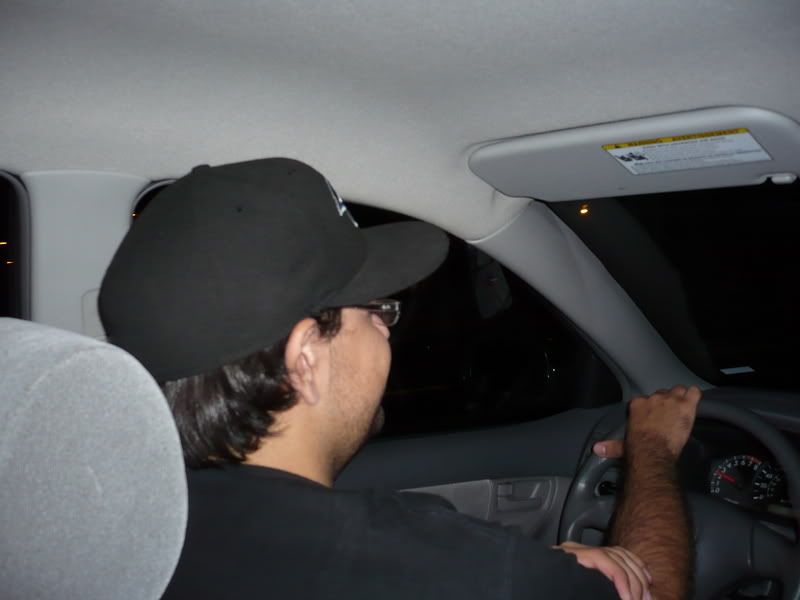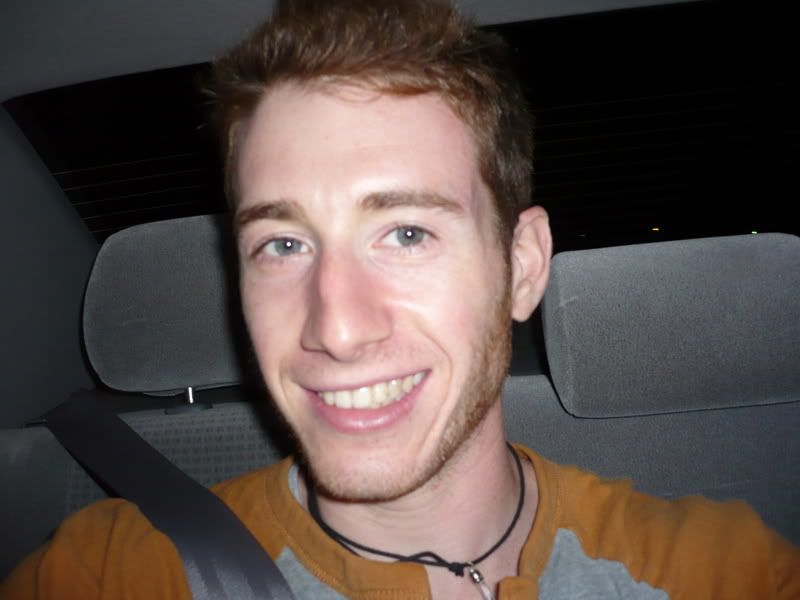 In this day and age of iPods and such it kinda makes carrying a bunch of CDs around pretty irrelevant, except in this particular situation. Our total random basically had the worst CD collection of all time unless you are in love with Chris Cornell, then you would have been fine, we were not. We saw a nice cat at the border.
It's just art.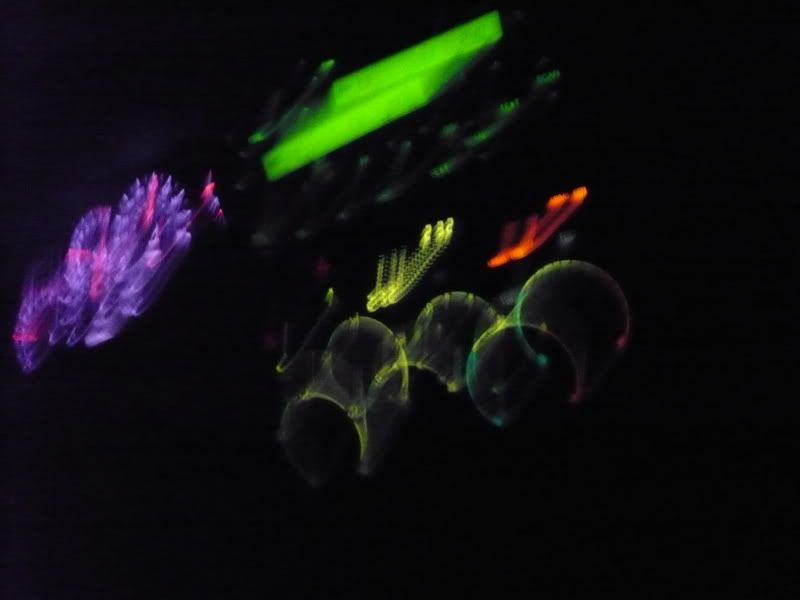 This next piece is strictly literature. We get close to NYC and then we end up taking a wrong turn in Newark, I hear this isn't the best place to do such a thing. We get back on track and just after getting into Manhattan I'm driving into oncoming traffic like it's no big deal and people just move out of my way like they are expecting it. NYC isn't the worst place after all. We get to Mo's place and she gives the random dude directions and he takes the wrong turn right off the bat and we all assume he is going to die and we'll never see him again. We then go out for breakfast and get treated by Mo to bagels and syrup or vegan cream cheese, depending on your preference. A random stoop is where eat, keepin it pretty real. She walks us to the subway and then we get ready for the hottest day on no sleep. We get to Randall's Island in time to see everyone. Highlights of Rock The Bells for me were Immortal Technique, Pharoahe Monch, Brother Ali, Blackstar and free rockstar juiced. Lots of other good stuff but I was too tired to care after a while. Lowlights were the shitty food and overpriced water. Funny part of the whole thing was the set up, they had a huge caged off section in the middle that nobody went into so we just went in there and had a good view of everyone playing while people crowded everywhere else. There was a dude in this section that wouldn't stop dancing and his only move was to jump and at the height of his jump he would get his hump on, one big thrust. He was dubbed Air Stab from this point on by me. One drunk dude did the only hips dance the whole time Wu Tang played, that was also pretty amazing. We left before RAGE was done to avoid thousands of people leaving at the same time. Picked up the Diabolic Foul Play mixtape and you should definitely give it a spin, it is surprisingly good.
We then navigated our way to Red Bamboo where Mo was working and we had a delicious vegan meal of buffalo wings, shrimp, chicken nuggets and a chicken parmesan hero followed up by a big ol piece of peanut butter cup cheesecake and ice cream for dessert. Possibly one of the greatest meals ever. Right after this we hit up Food Swings (vegan fast food) for milkshakes then walked through brooklyn to a pizza joint that had vegan slices. I was food drunk after this gluttony and then had the pleasure of listening to a bunch of girls do karaoke from the street and heckling random girls. I then fell asleep and offered to split a shower with another person I didn't know...the sleep was needed and necessary. Brunch with Mo and Colette was slept through by all of us. It decided to rain like nobody's business on our trek for the first meal of the day. So what if I'm sitting on the steps of a subway station looking like I reverse pissed myself?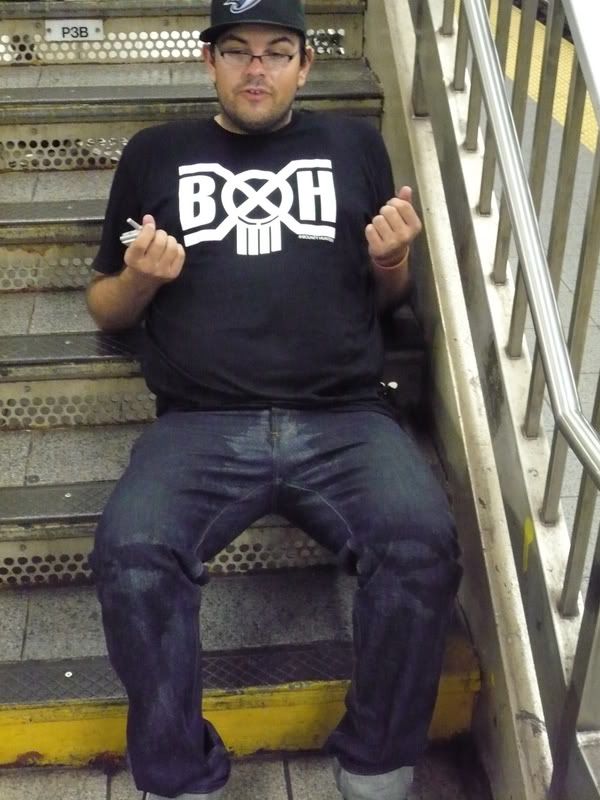 Therefore, we headed to Red Bamboo once again for a glorious meal of chicken satay (this is the to die for dish of all that I tried), root beer floats with butter pecan ice cream, The Mottalini (a delicious sandwich), ribs and oreo cheesecake with mint ice cream. Another seriously amazing meal.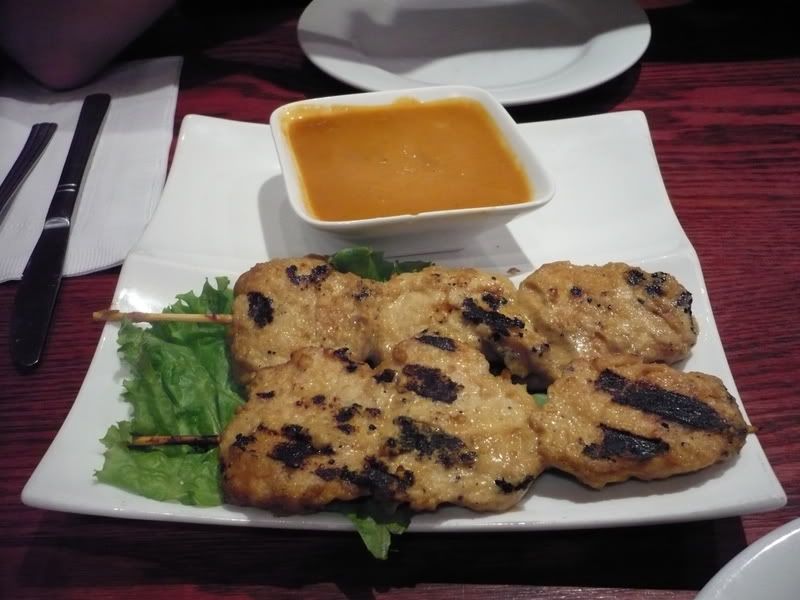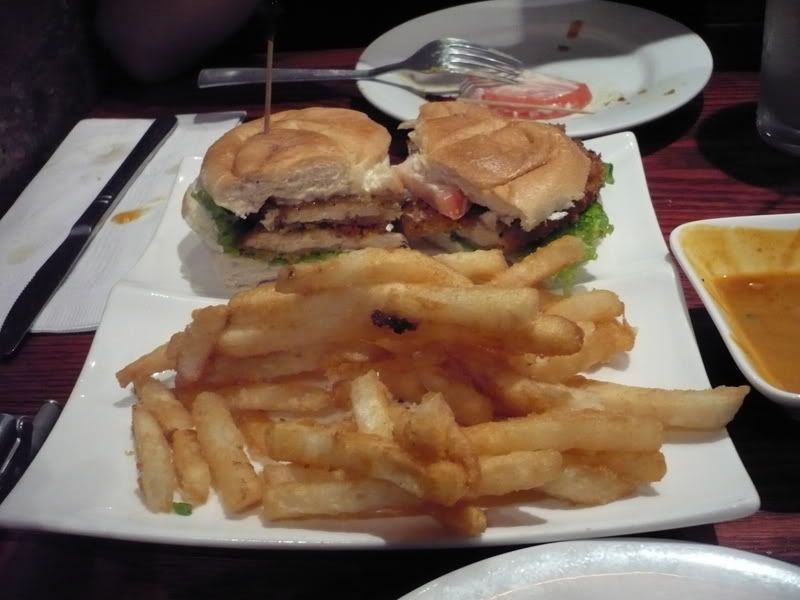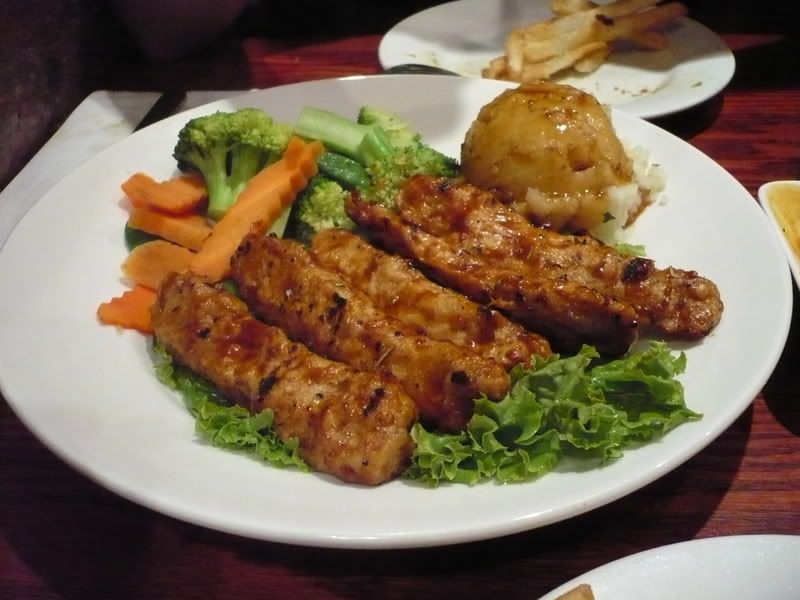 Who is this?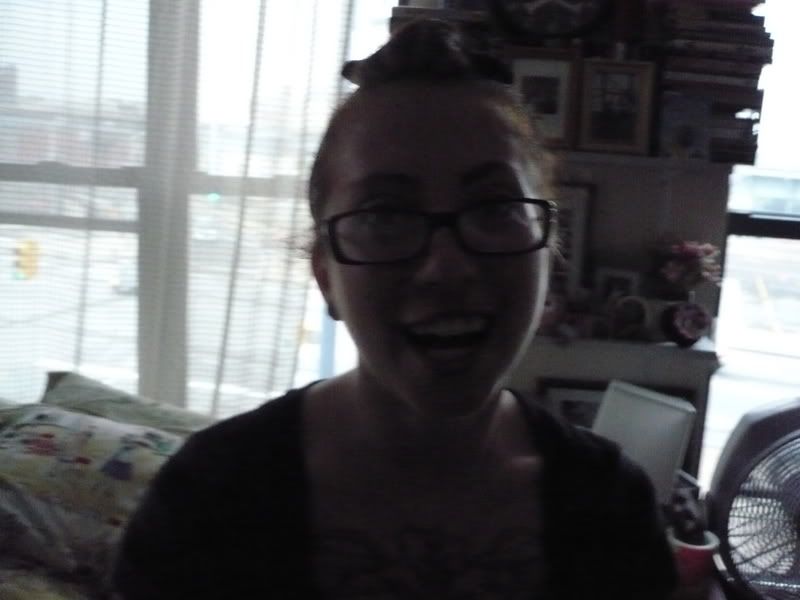 NYC's MVP!!! Mo made my trip this trip so much better than it could have been. I'll sum it up with Mo knows Hospitality. Thanks for everything if you happen to see this!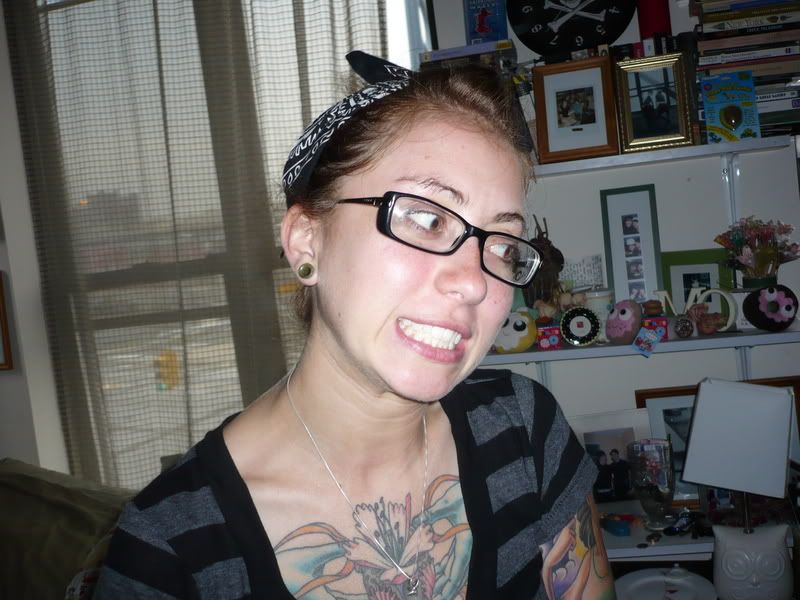 After we ate Mo left work and took us all over Manhattan for shopping and stuff like that. Got my New Era on as well as a new pair of kicks from DQM. During this portion of the day I found out that there is someone in NYC that will get their face pounded hard if I ever see them. Also hit up whole foods and got some amazing new vegan protein bars, essentials. We decided to end our stay with a last meal at the vegan fast food joint Food Swings. KFC style chicken wings, chicken bacon ranch sandwiches and jailbait milkshakes were on the menu as well as sweet product placement...it's no nike commercial but it's something.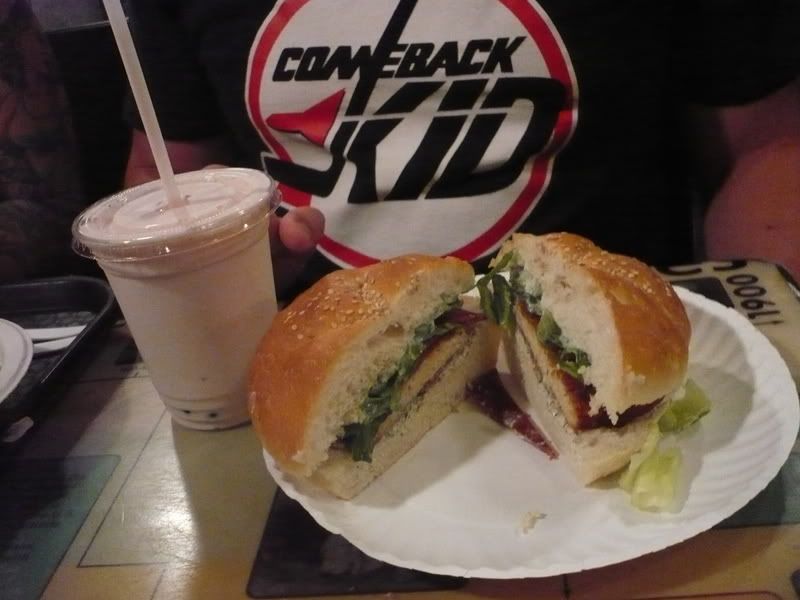 It was time to say goodbye to NYC and our new friends Mo and Colette. A good way to end the trip to NYC and get back on the road to TO.
Another day of being awake and driving through the night. For some reason car sleep doesn't come easy to me anymore. We had no trouble at the border and the car was returned without a problem either. It was back onto public transport yet again to get some daytime sleep at Scott and Tara's! No sleep, so what? Tough balls!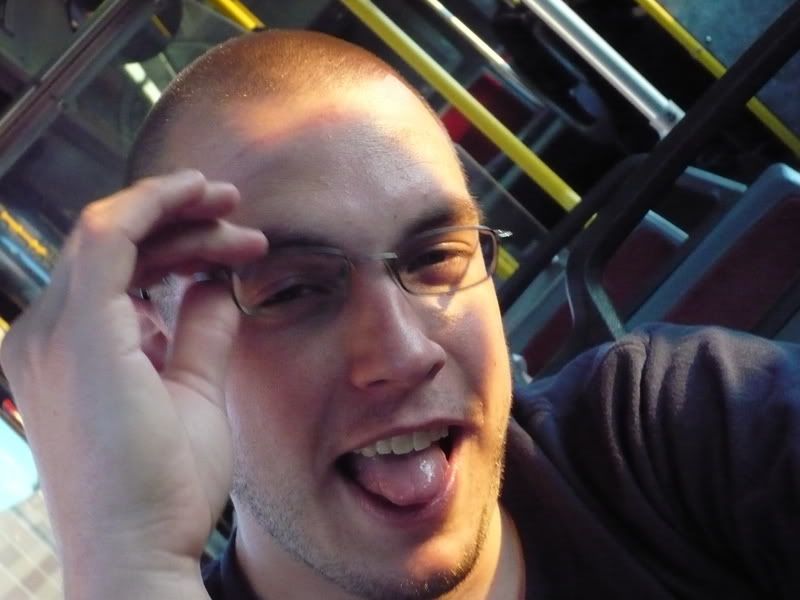 Remember when I mentioned something about someone's amazing CD selection that they brought on the trip...this may or may not sum it up.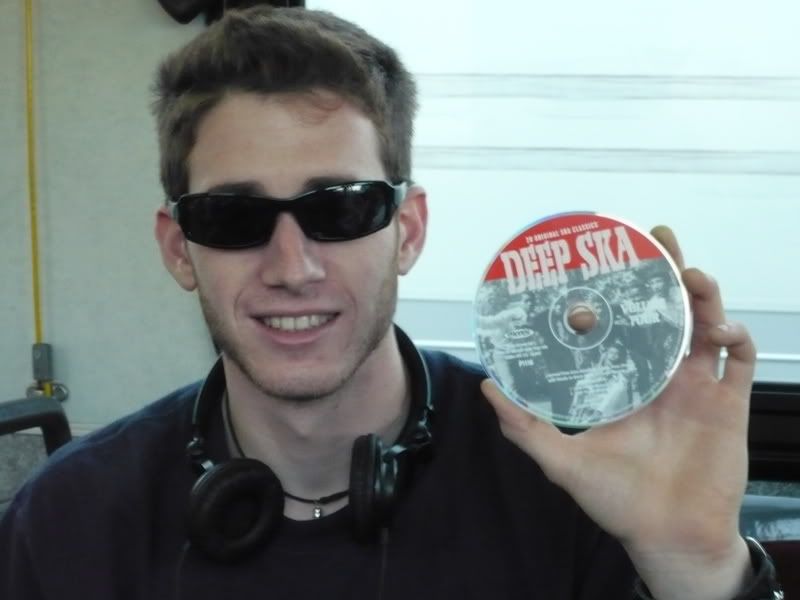 Sleep then came swiftly to get ready for the last night of hangin out in TO with people that I don't get to see nearly enough! Waiting for our table outside of Utopia before a little bday dinner you get to see the nice non threatening side of Scott.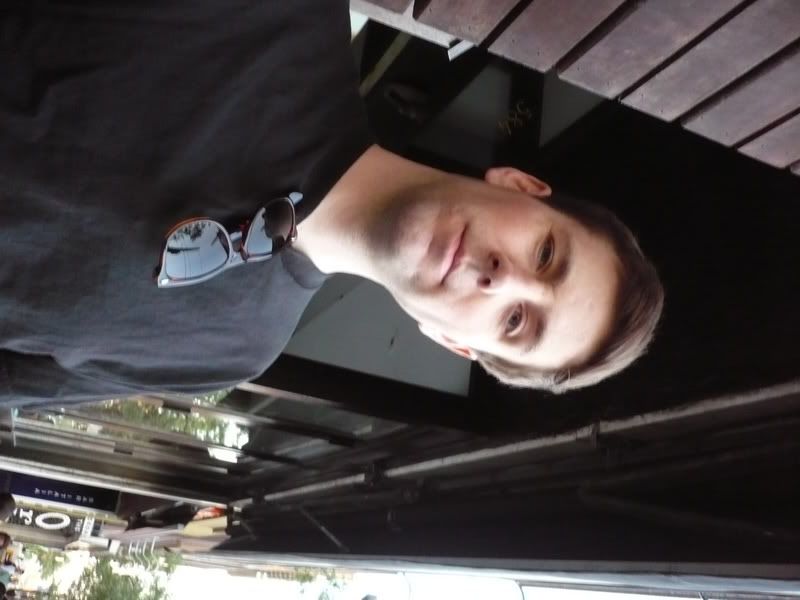 But watch out for the ever so threatening tiger claw version of Scott...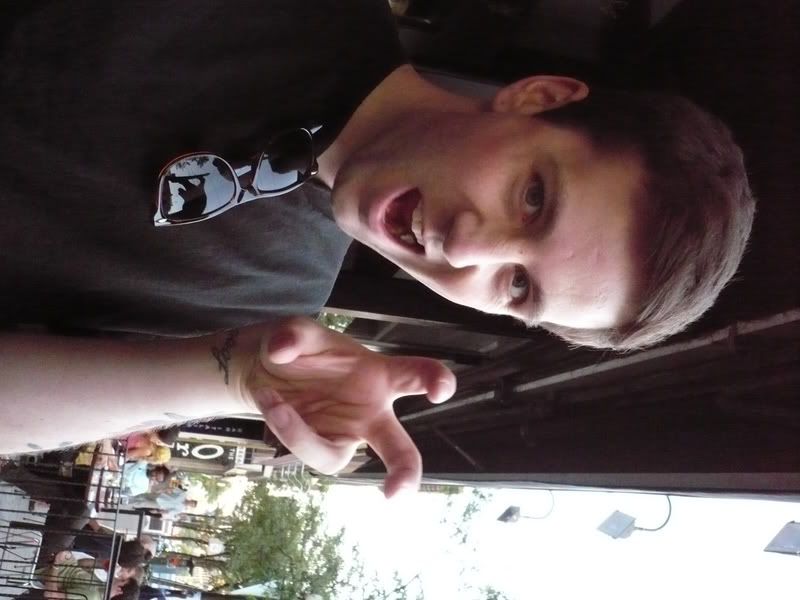 We got in finally and the food was delicious. Burritos all around. What better way to follow that up than by stopping at a book store to find a Elvis themed Where's Waldo book? Maybe nothing other than going out for gelato right after that! A couple babes (Tara and Allie) and some random that wouldn't leave so that we could all sit down and enjoy our evening.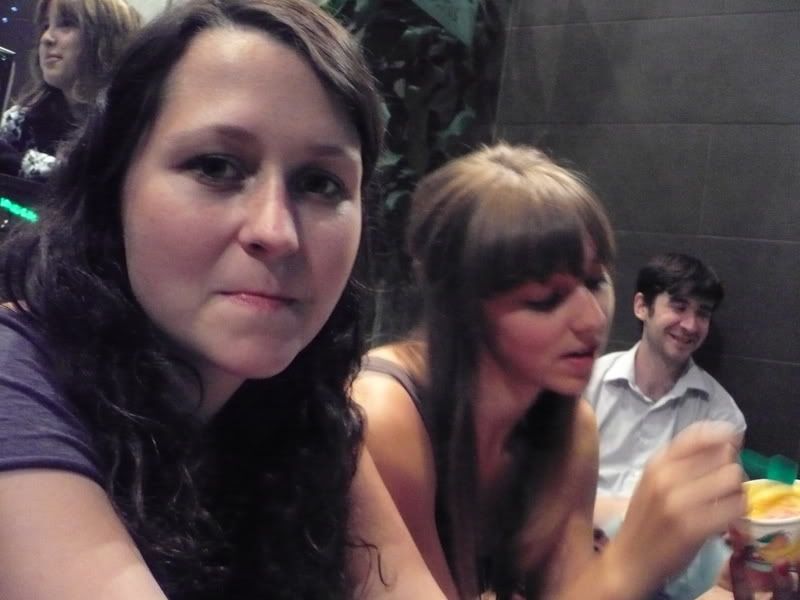 A nice natural shot of nobody paying attention to the camera in any way shape or form!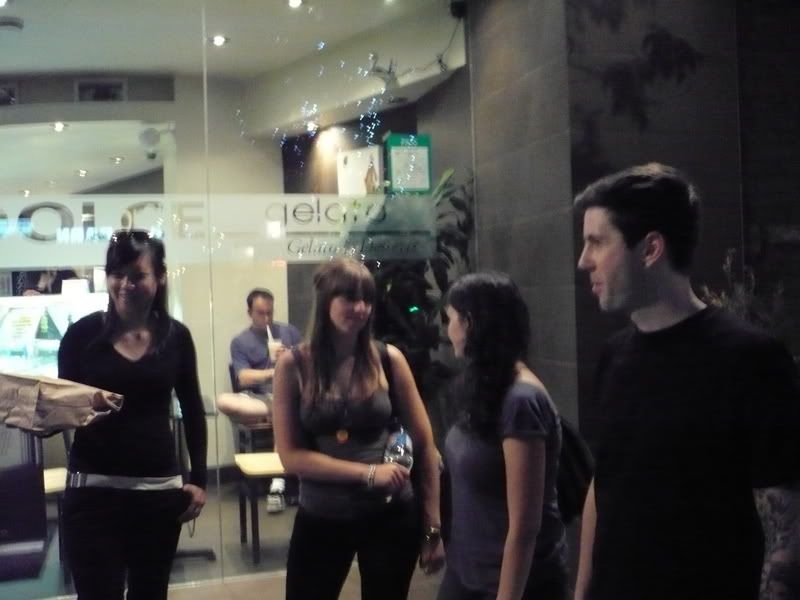 The average girl is both intimidated by and drawn towards the power of the lion...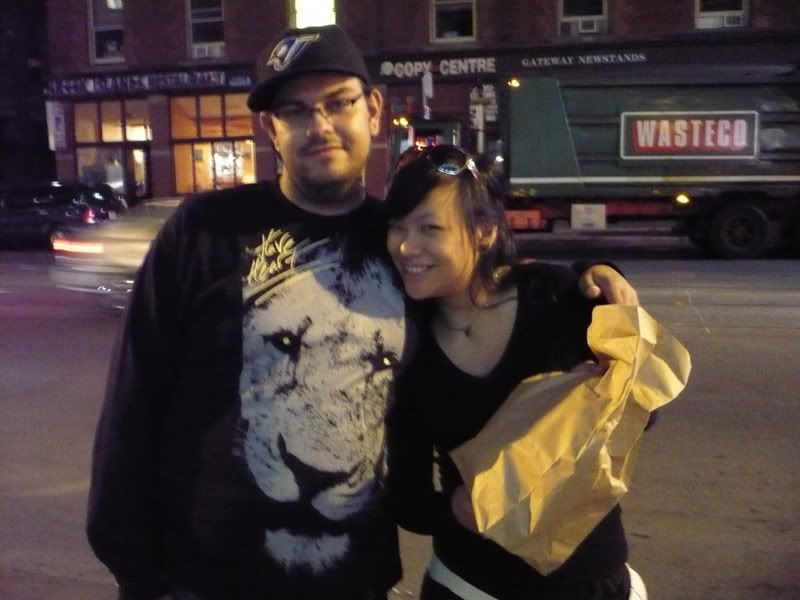 This particular girl was giving me a bye bye hug after giving me the sweetest bday card that I got this year, she hand made it which is pretty dope.
Back on the subway to Scott and Tara's for some sleep. First a newsflash...Scott, you are NOT Puddy!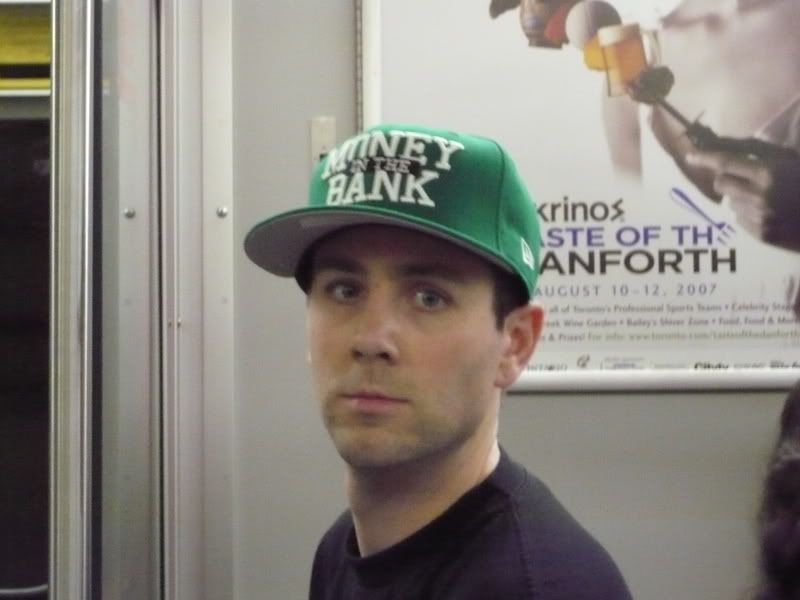 Someone realizes this and is clearly not impressed.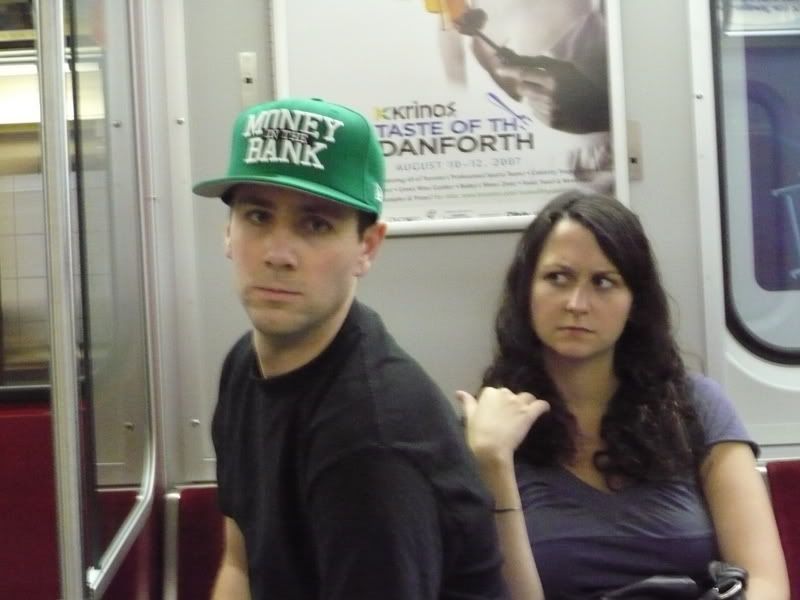 Last day of the trip, starts off with a delicious breakfast at Maggie's. Stuffed french toast could almost be the only french toast.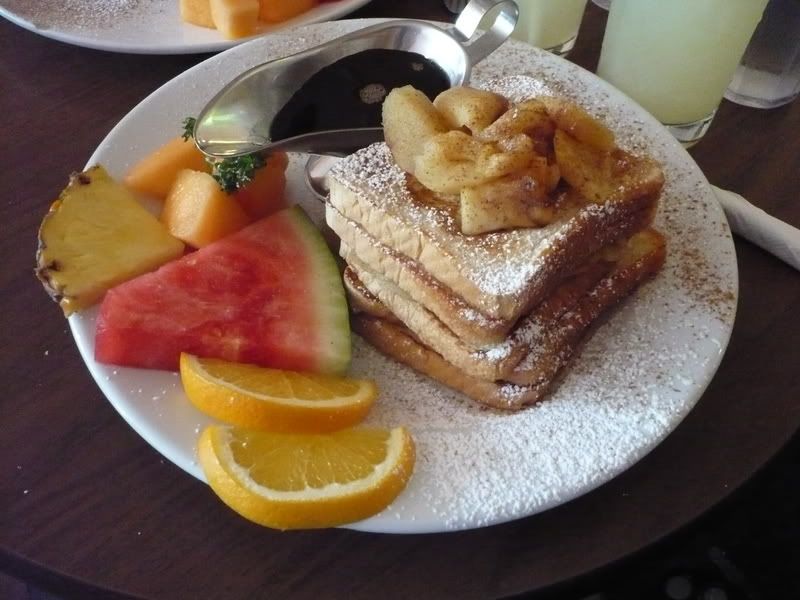 Not long after this we were back on the plane to get back to the Winnipeg lifestyle. I want to thank everyone who made this trip as amazing as it was. Hope to see you all soon and all that good stuff. Thanks for hangin in on the longest post in history. srsly.