So saturday is the day we take the journey to MPLS to play a little basement show for a friend's bday. I kinda slept in but whatever ya know. The journey began and all was well...until this guy asked how to get to Washington D.C.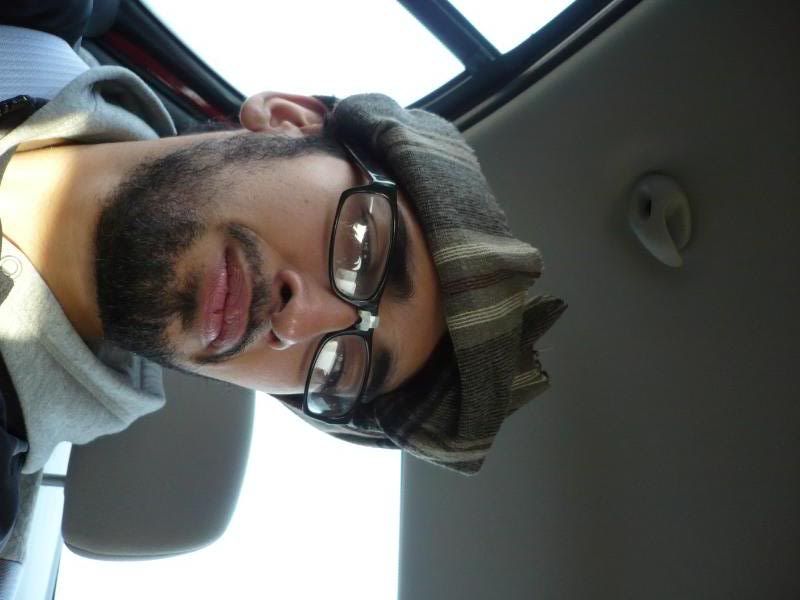 We made it across the border with no trouble, which kinda blew my mind. A little stop at Taco Bell in Fargo as per usual for a quick bite. I know it looks good.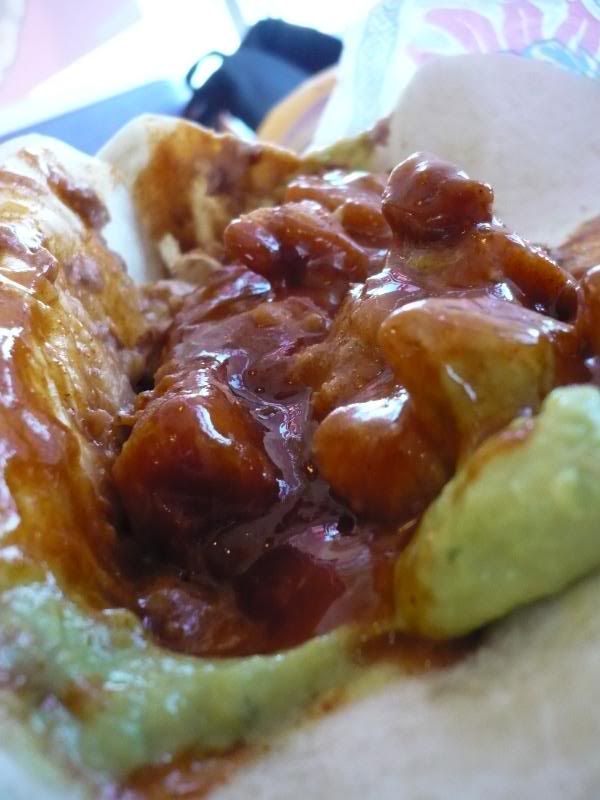 This particular visit birthed a character I like to call Tacolio.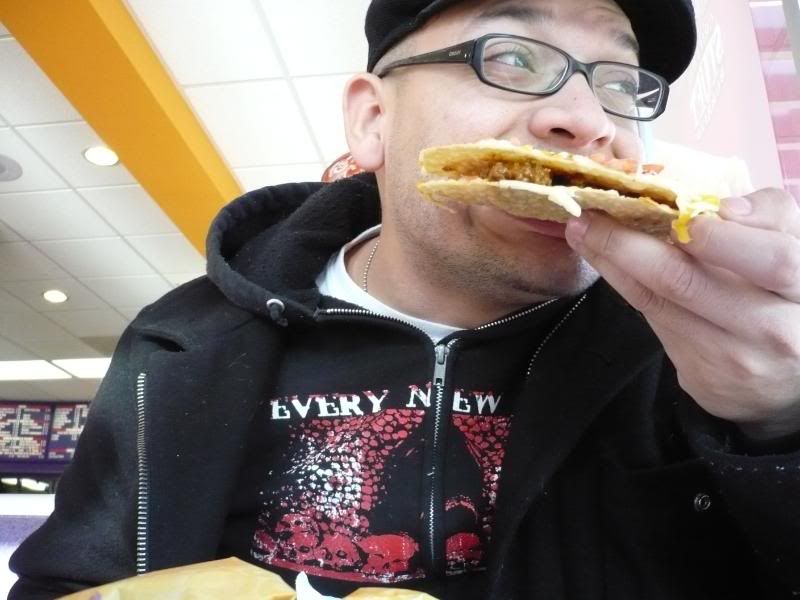 Best friends showin each other some love.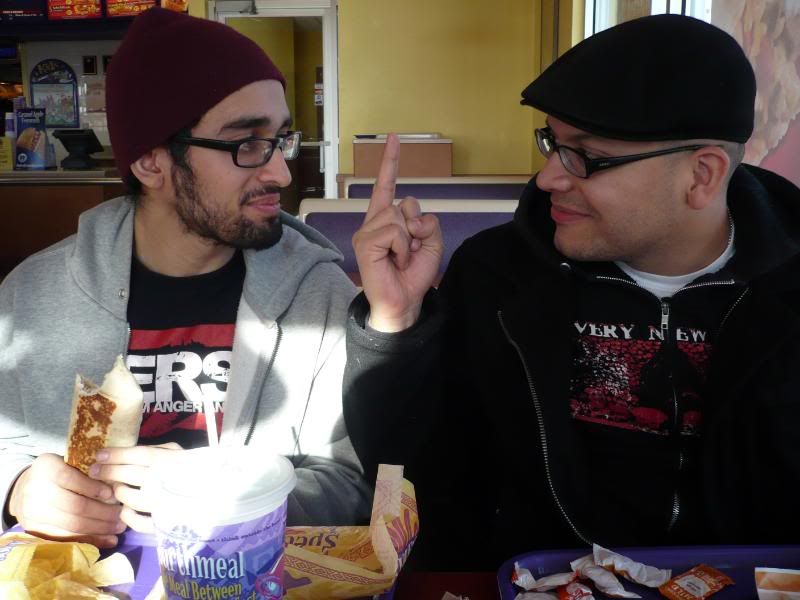 The face that shows up around the time a certain goiter gets mentioned.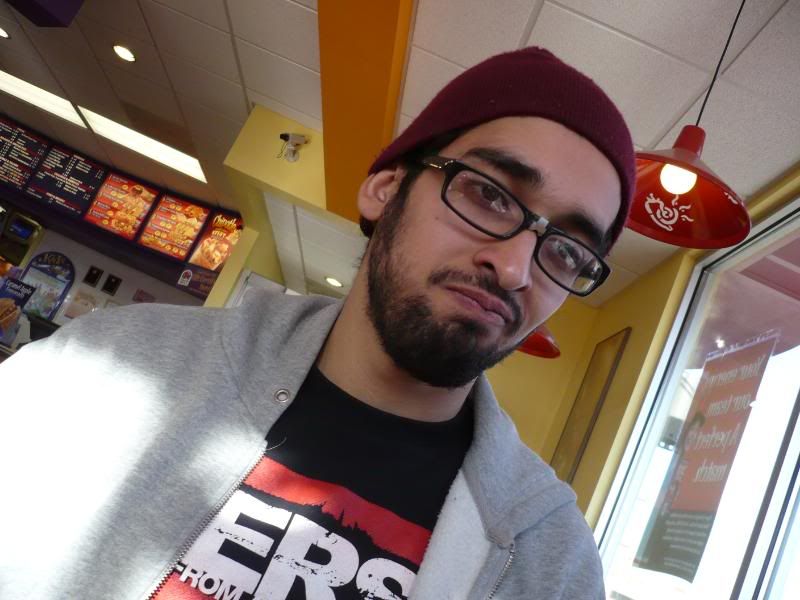 It was around this time that I got a TM tellin me that the show was cancelled. We were supposed to use another band's gear and they cancelled but neglected to let Vegan Eric know of this. We were already in Fargo, so I called the Daggermouth dudes to see if we could jump on their show tonight and all I got was a "FUCK YEAH MAN". That's when I knew the day was gonna be extra sweet. We then had a whole afternoon to kill in Fargo. There is not a whole heck of a lot to do there...so we decided to go to the mall and see america at it's finest! Sometimes this is the only way to see if a bed is worth your while.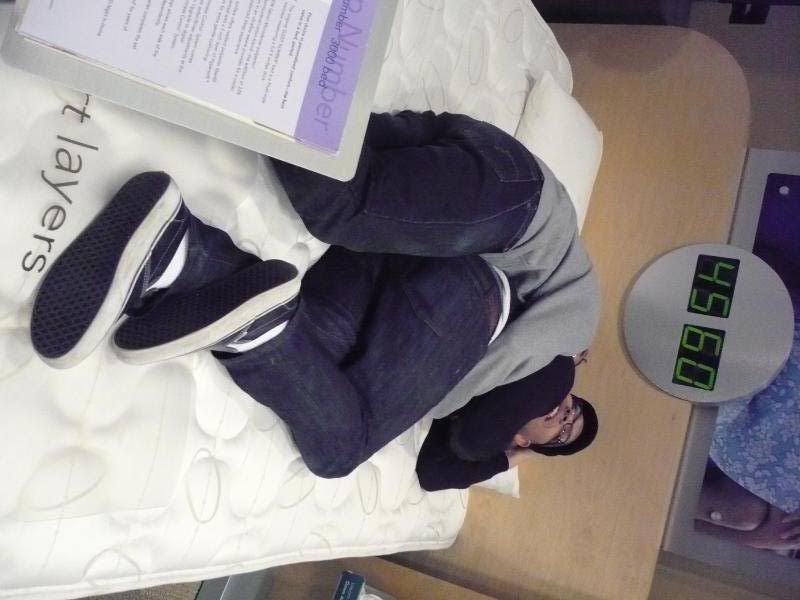 An extra special hat for an extra special face.
Tacolio almost copped some new kicks...unfortunate that he didn't though.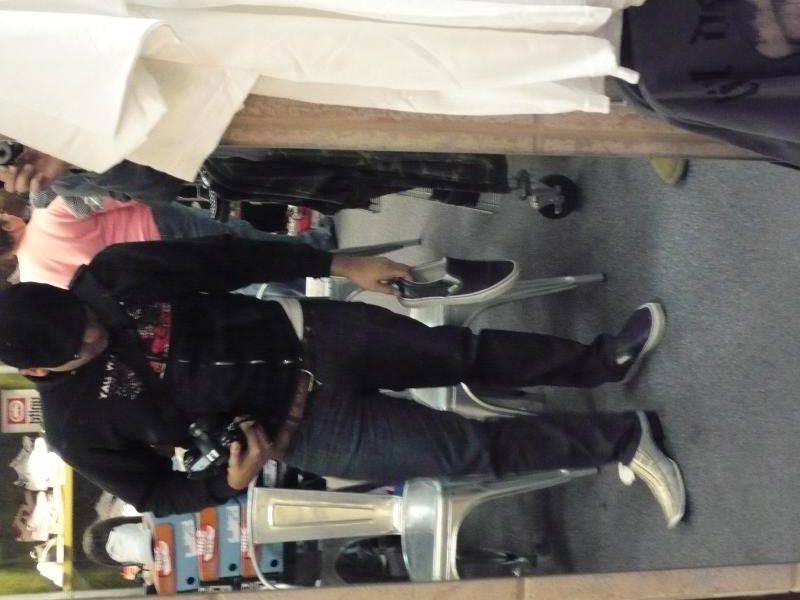 Puddy and I are about the same height...not exactly the shortest dudes. You know where I'm going with this.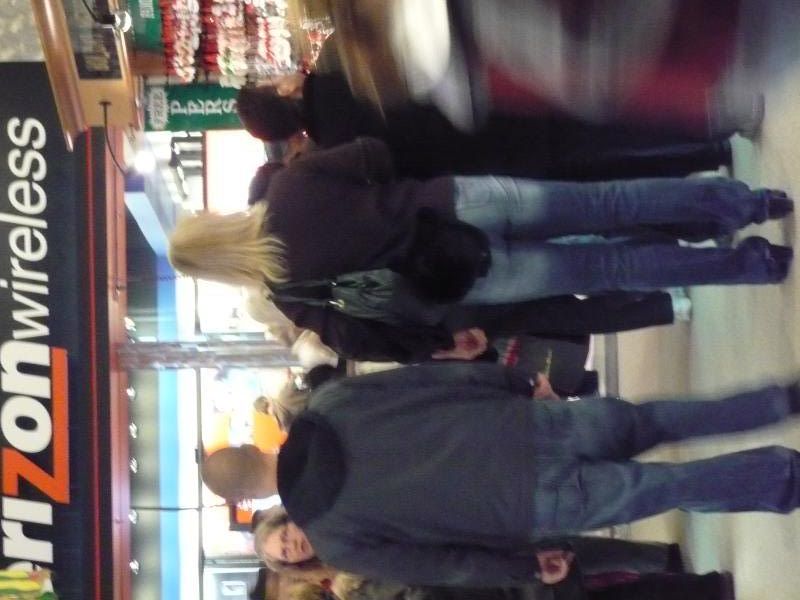 New hoodie time!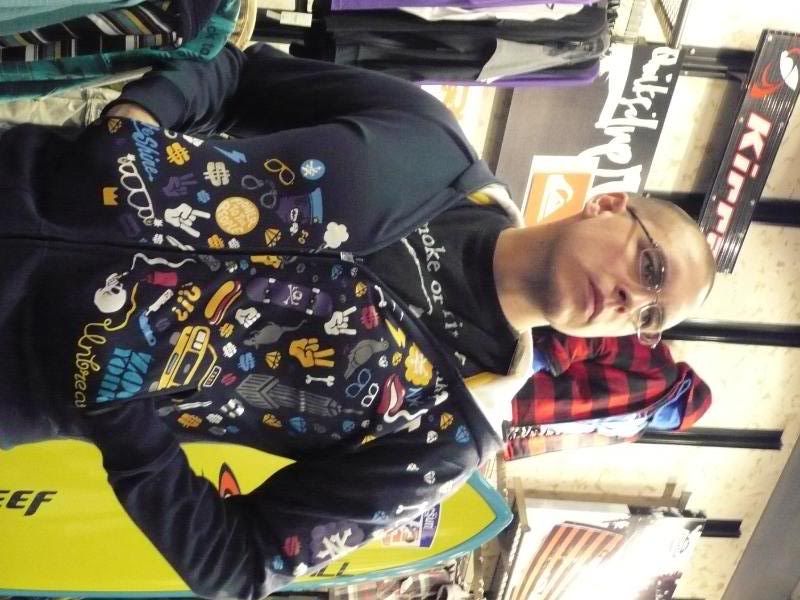 I'd love to know what this is.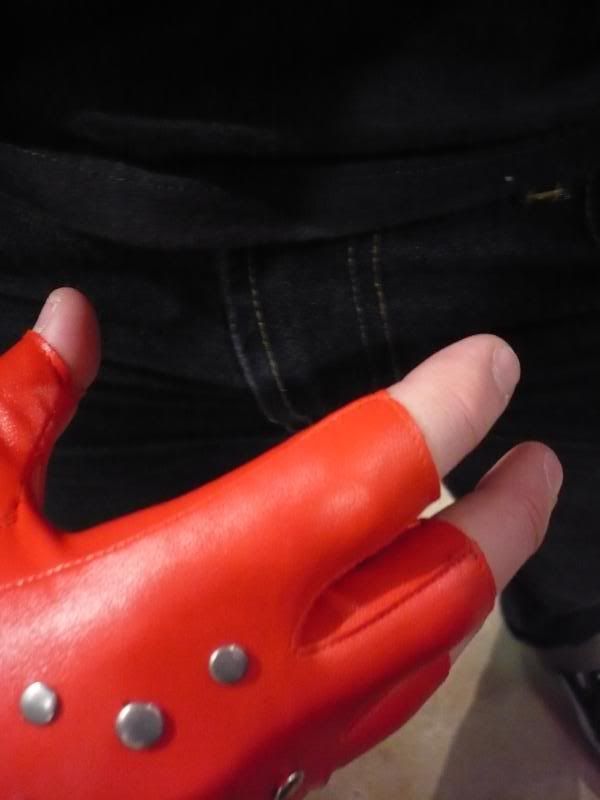 It's actually nothing, since you aren't allowed to take pics in Hot Topic. So technically this didn't even happen.
After killing an afternoon in fargo and eating at a mongolian bbq place where the biggest people ever have to eat as much as they can...we hit up a grocery store with a Caribou Coffee in it to get my fave stuff. They were out of mint so it was a good thing that Puddy hit that shit up earlier in the day or I would have been heartbroken. The scooter dealy things then got a little workout and a hilarious comment by the charity worker outside. The video isn't making it on here...if you know me maybe you'll get to see it.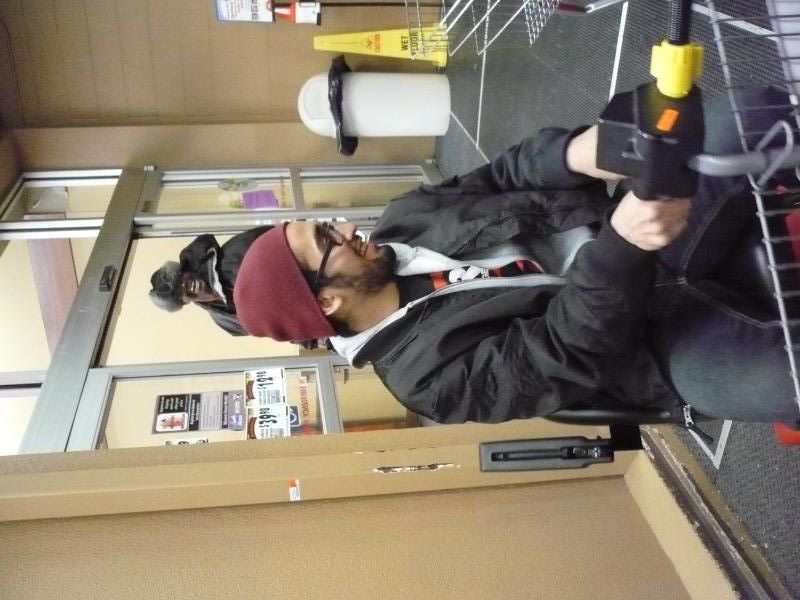 We found our way to the show next and it was a nice little venue. Before getting settled in Nick and I peaced to Starbucks for our usual pre show bucks. It was nice and relaxing and they made my joint to near perfection. We missed On Our Side and that's kind of a bummer, next time boys. We made it there in time to see Any Day who happened to cover linoleum...amazing jam. Born Bad was up next and they brought it.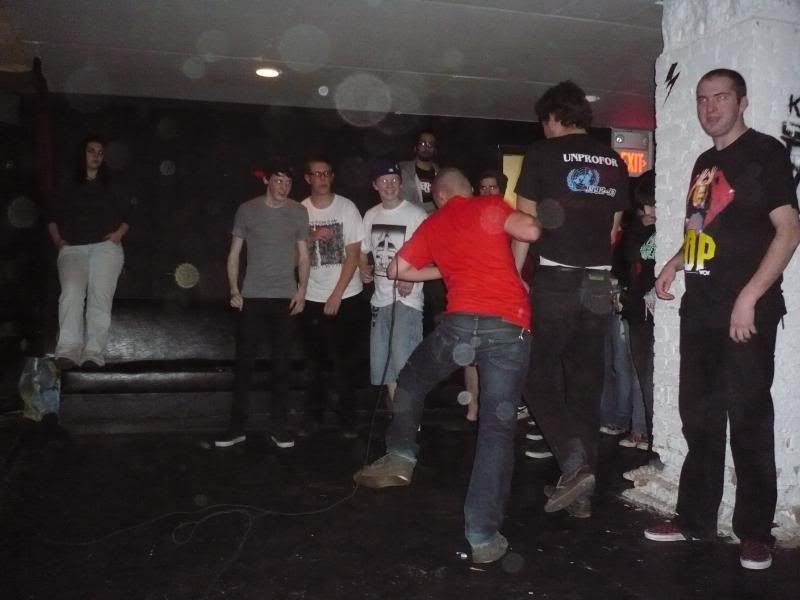 Stevie D goin hard as ususal.
Next up was the one night only? special that got moved from MPLS to Fargo. Thanks to Dan Don for hookin the pics up.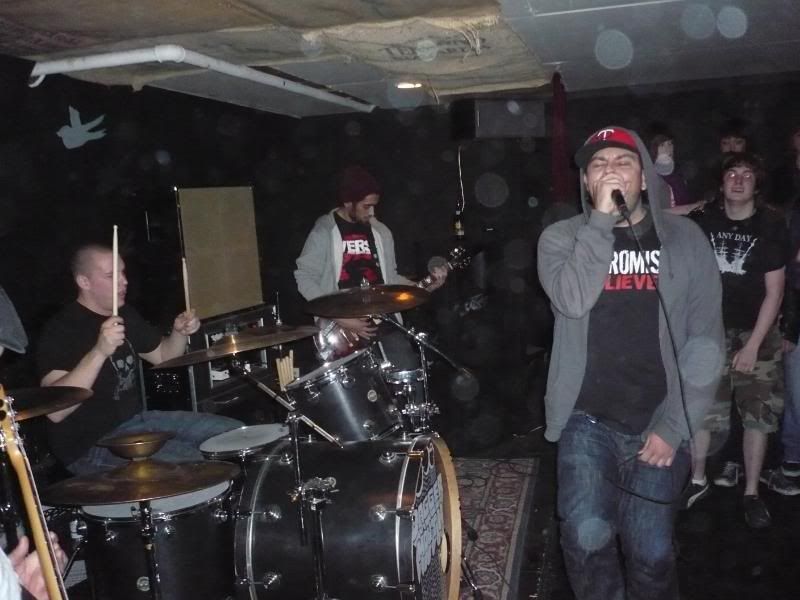 Matt was happy he got to catch the set...
and got to be part of the circle pit mayhem!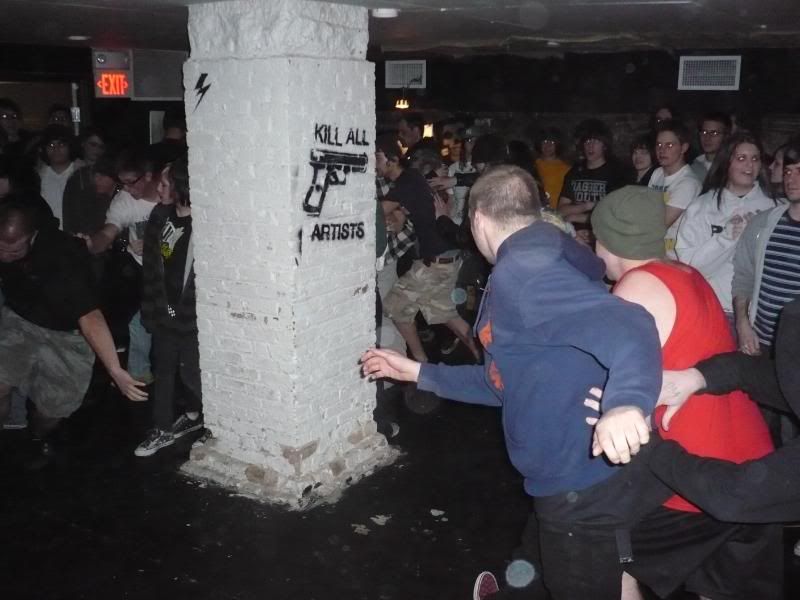 Tacolio rockin it like nobody else.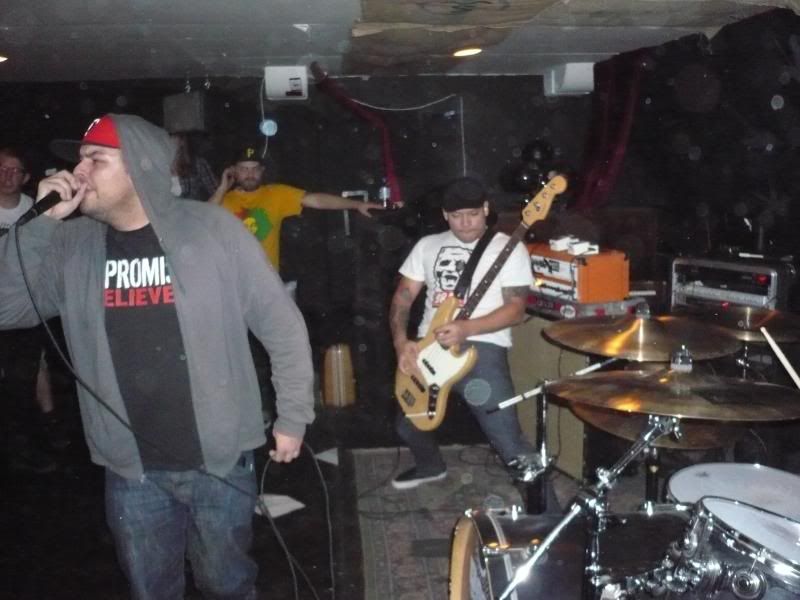 Jars in a nice laid back rock. How he stayed in toque and hoodie I have no idea...I nearly passed out rockin a hood.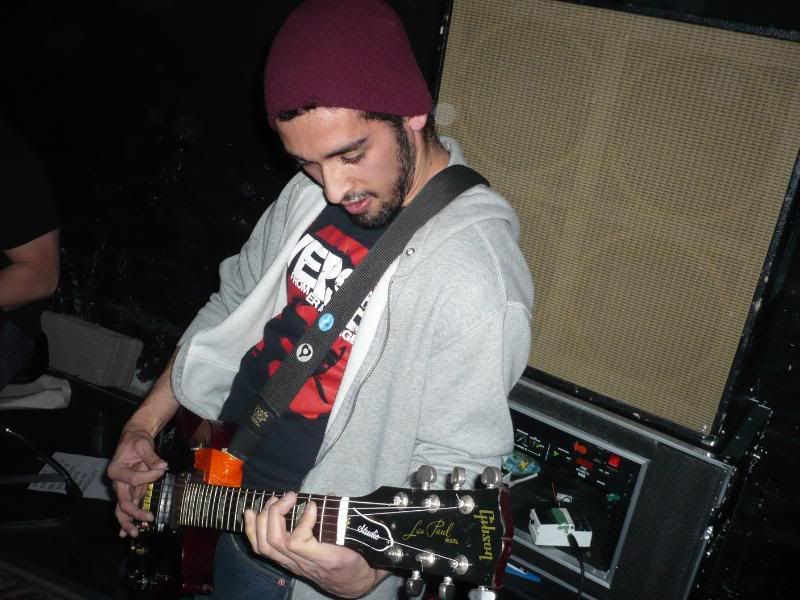 Puddy bringin the jazz fusion that only he can to the mix.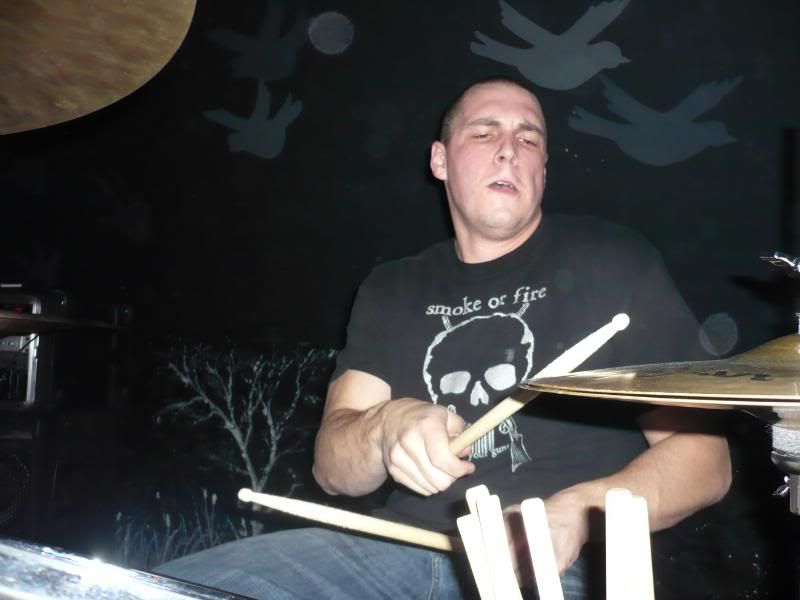 UR MOSHIN!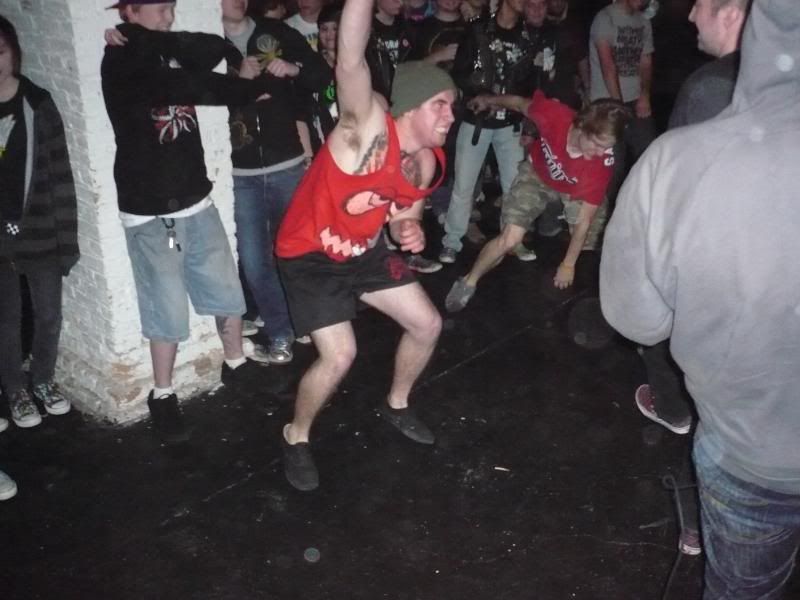 This one is here just so you can see the growth.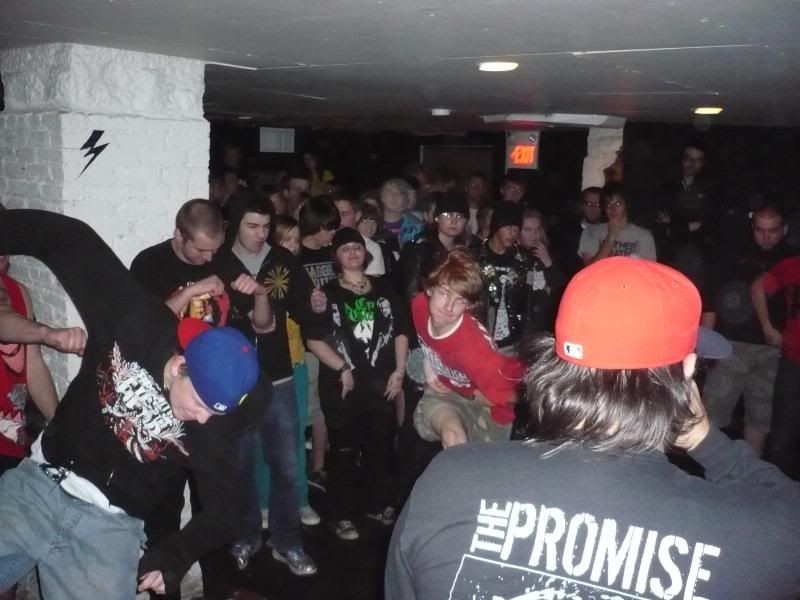 My hip was kinda fucked when we played so I went for the ol trusty headbang...this is mid bang...get into that.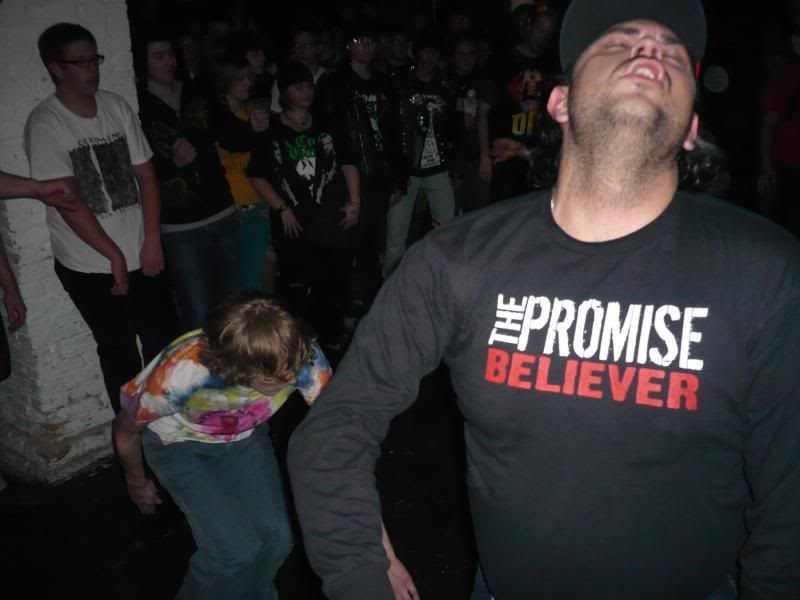 Our boys in Daggermouth were up next and they tore it up. This show was srsly amazing.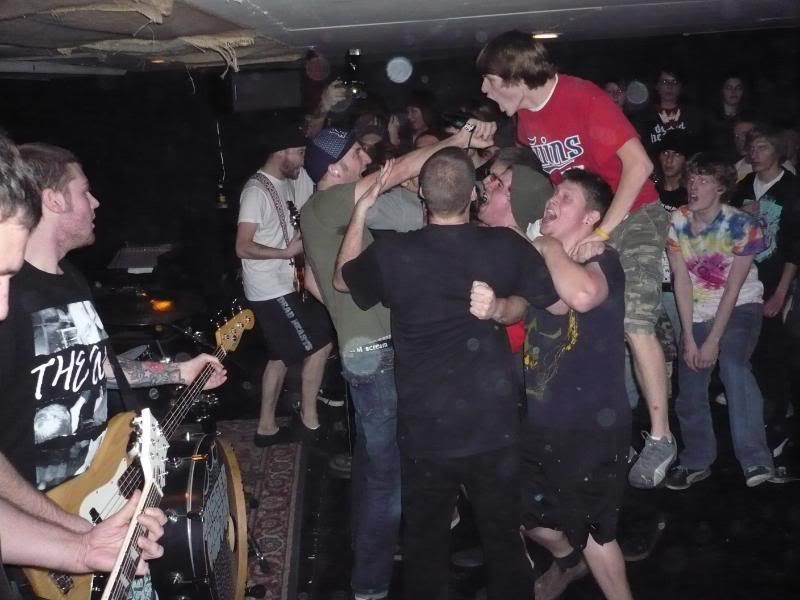 Mike and Nate were both stoked.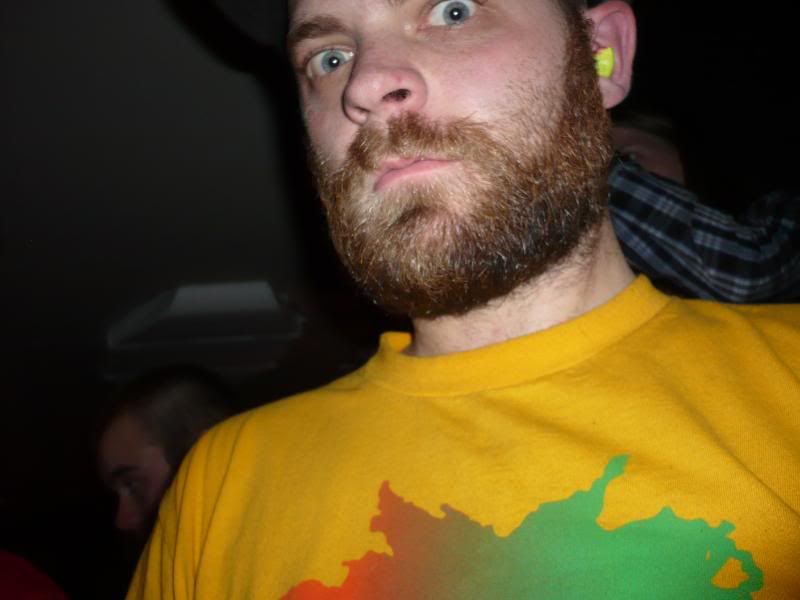 Kids were all over Dmouth's set.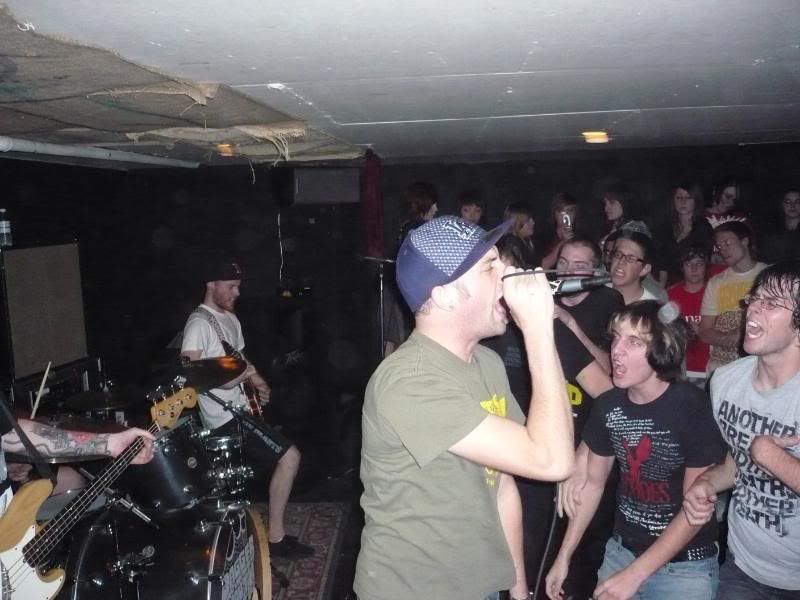 Kenny, not much face showin, and the Champ, nice shirt!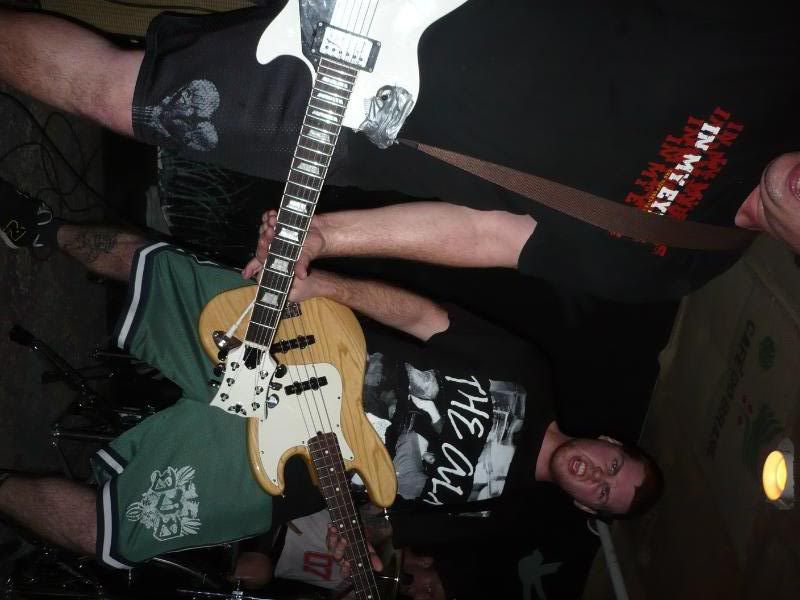 Gotta give Dan Don a little jersey wearin love.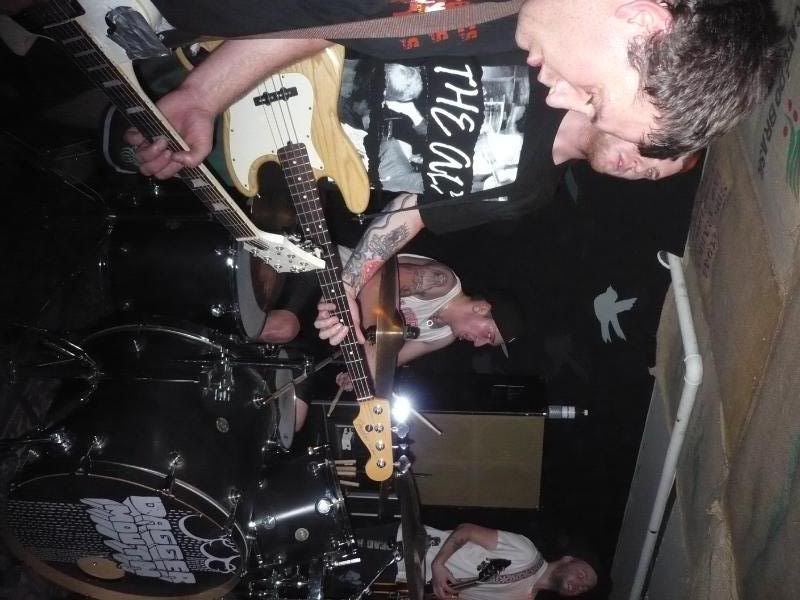 Look close, the dual vocal attack to end Daggermouth's set. The last time it will happen for quite some time. Matt Kelly even brought it, that's how special the occassion was.
Right back to work after the set for Matt.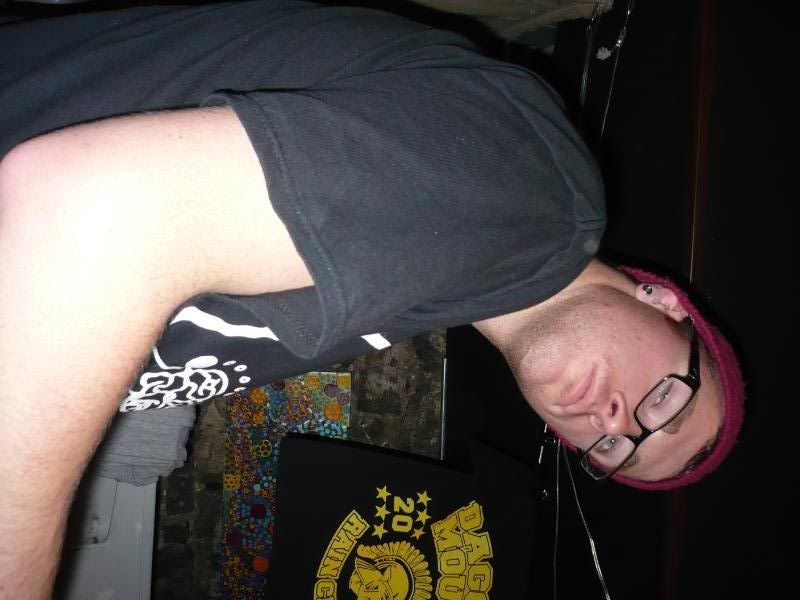 The necessary crew pic.
I'm gonna miss the Daggermouth dudes a ton. Hopefully I'll see them sooner than later. It was basically the best way to end our time together. A great show, where kids had fun and everyone just chilled out. Keep it safe dudes. Once again, if Daggermouth are playin anywhere near you go check them out and show them some love. Now all that's left is the drive back to Winnipeg. We got to enjoy this on the way back and you get to enjoy it now. Until next time.