So we were fortunate enough to get taken out by Daggermouth for a little western Canadian tour. We had to muscle a drive to Edmonton after Soupy worked the evening shift. When you leave at 230am...this is one of the only faces you can make.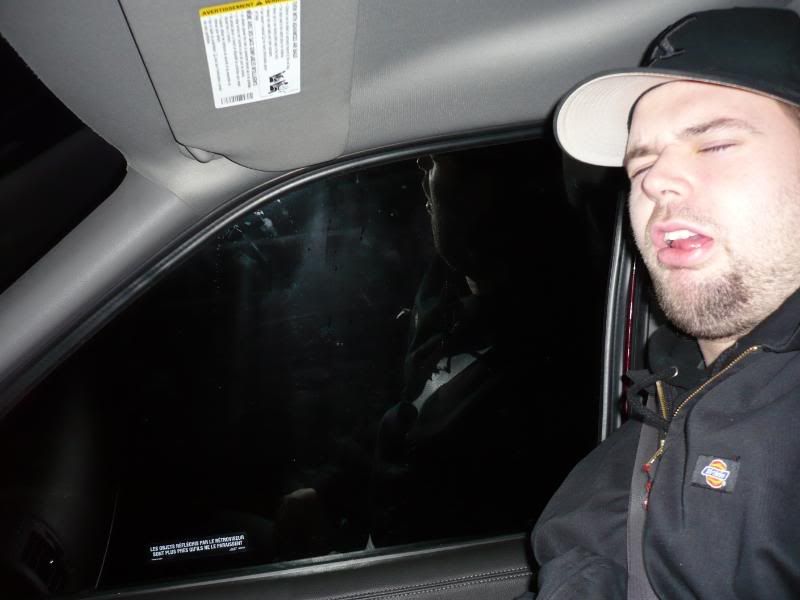 It's no real surprise that there was lots and lots of sleeping done by the birdman and jars on the way to Etown.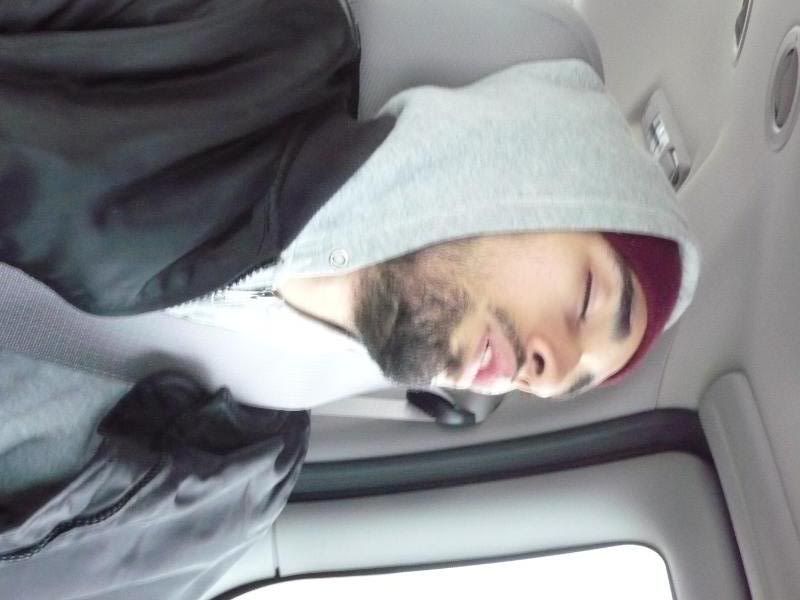 We had to stop to make a quick call and some dudes had to ghostride that whip.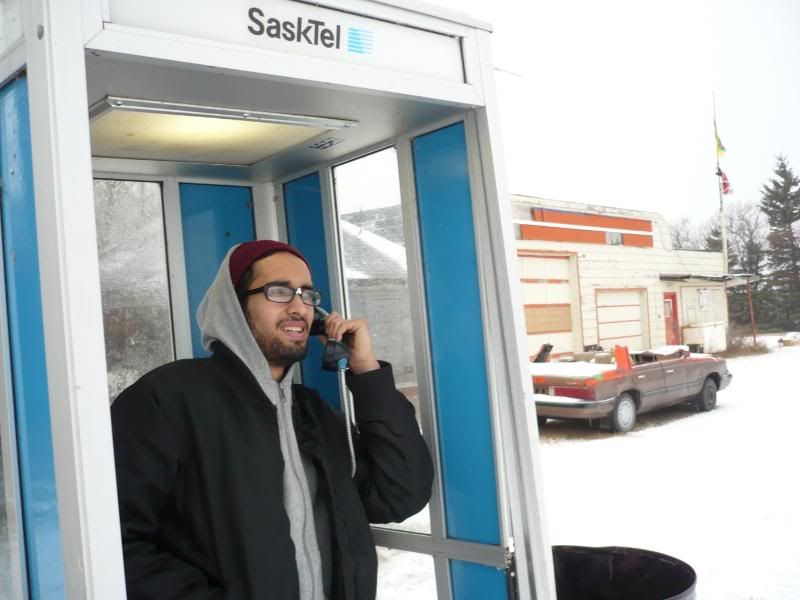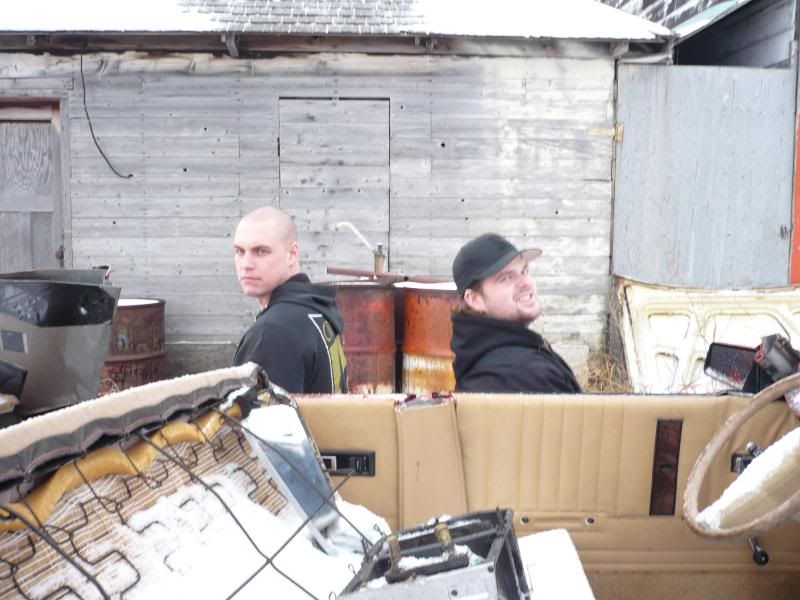 Winnipeg was free of snow when we left, but we ran into some freezing rain through the evening and when morning came in Saskatchewan we were treated to a little bit of snow.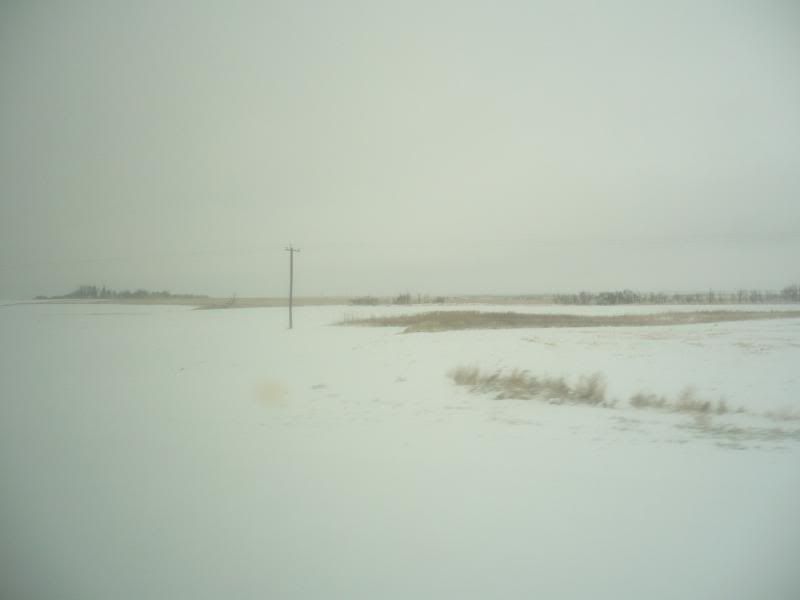 This is what Puddy had to deal with for a few hours. I'd be lying if I said we didn't almost die a few times.
A little ways outside Edmonton and it's a whole different world. It was pretty nice to make it past the near death experiences. Puddy was the machine on the way there and that's the truth.
We got to town and went right to the mall...Jars couldn't hold it in any longer.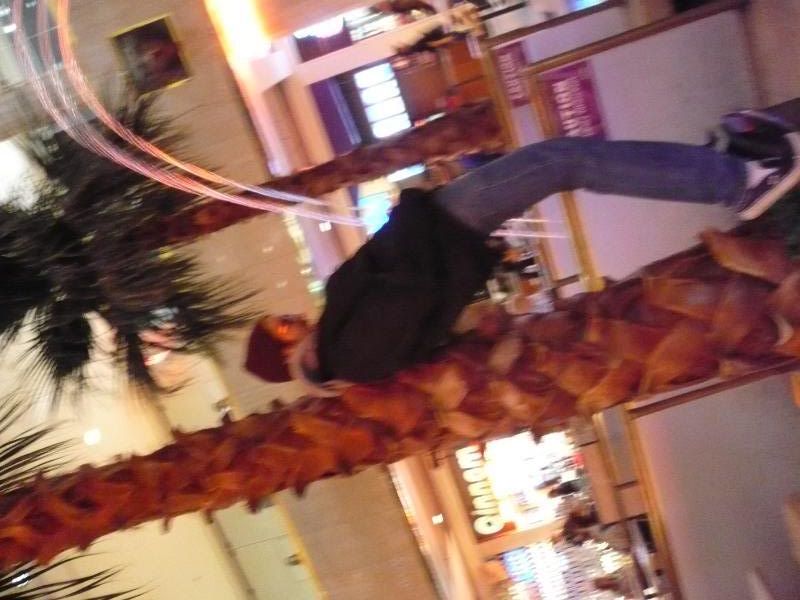 We had a quick bite of average food court offerings. Then we hopped back in the ride to hear stories of JFK and crew getting chased through the mall by a sweet dude in a cut off motley crue shirt on. It's never dull in Edmonton. We got to the venue and ran into our boys in Daggermouth.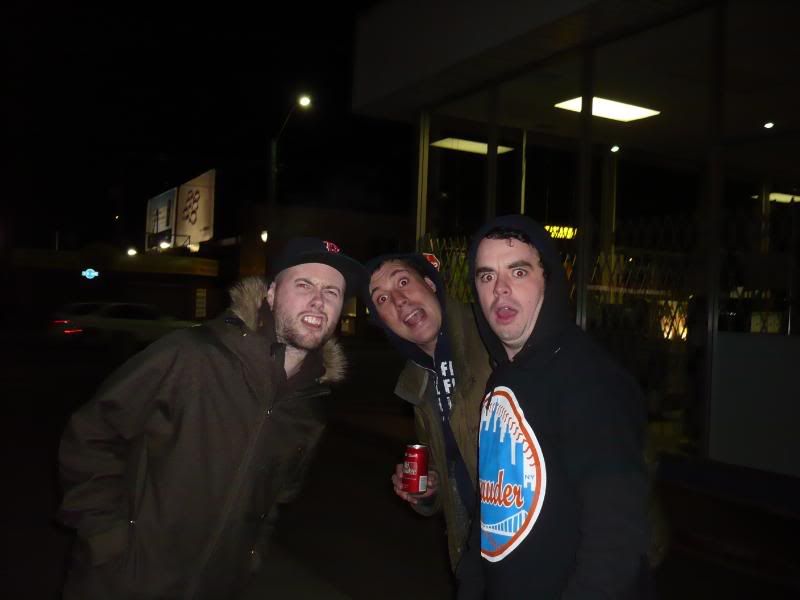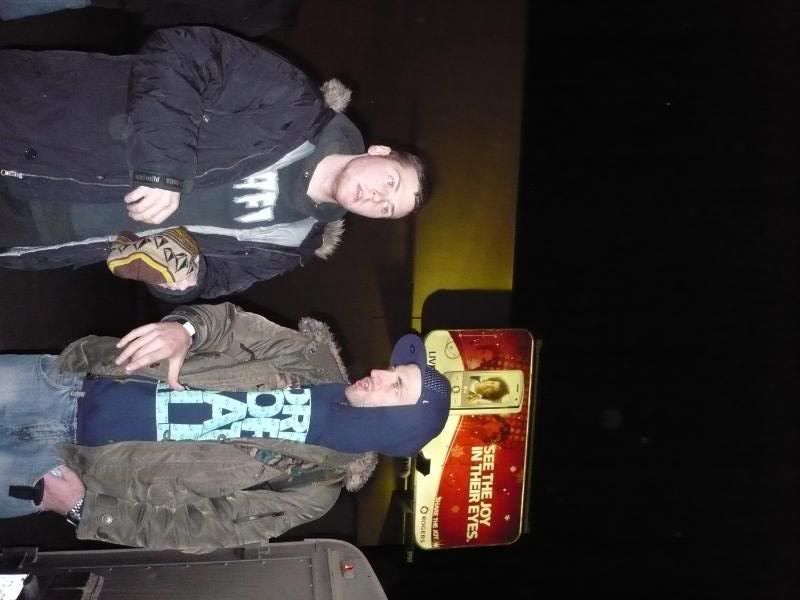 Ran into the new face of hardcore once inside.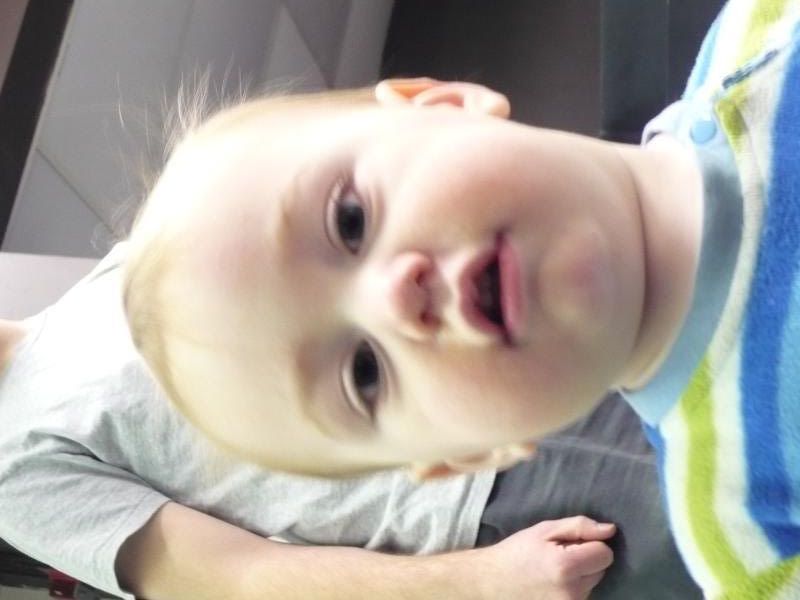 One of Tia Carrere's relatives was apparently at the show...no complaints.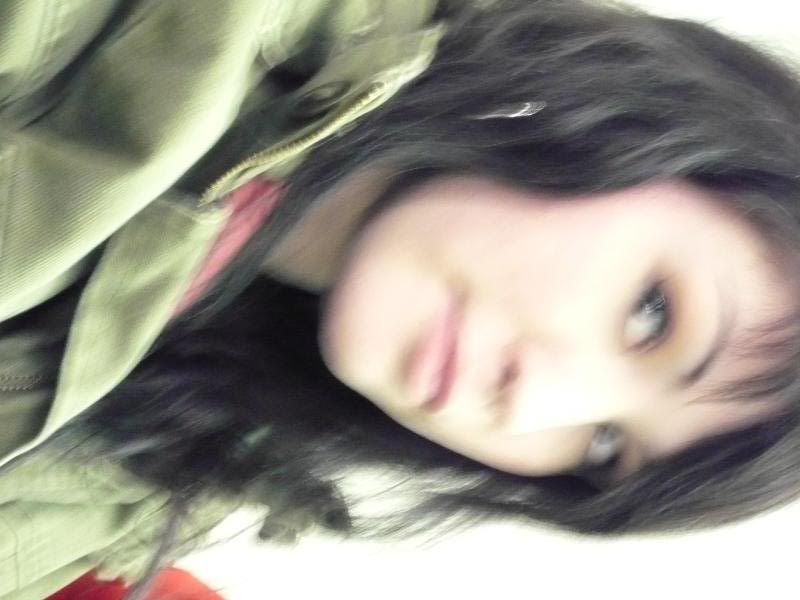 We played and kids went crazy, another reason I love playing edmonton. Singin along and movin around and just in general a good time. It's worth the drive for a one off any day. Also, if you thought that last pic was sexy get ready to have your mind blown with some post show pics. The real sexy.
Maybe the most mind blowing thing I have seen in my life. JFK with a celly.
After the show everyone went to JFK's place before headin out to the bar. When someone has a scorpion as a pet you know something classic is waiting to happen. Here is the ultra sexy Matt Kelly holdin it down.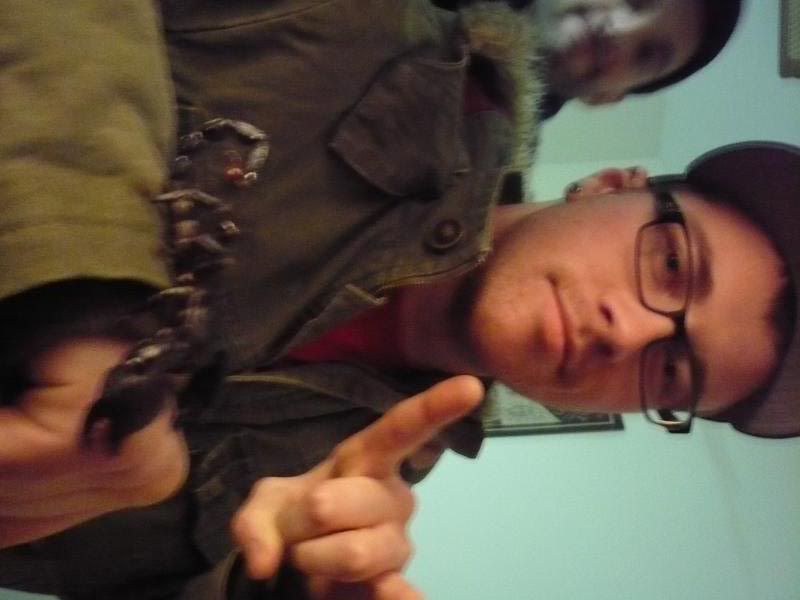 I went to the washroom to get ready to go out and then I heard this guy put the scorpion in his mouth...he made up for me missing that soon after. Believe the hype.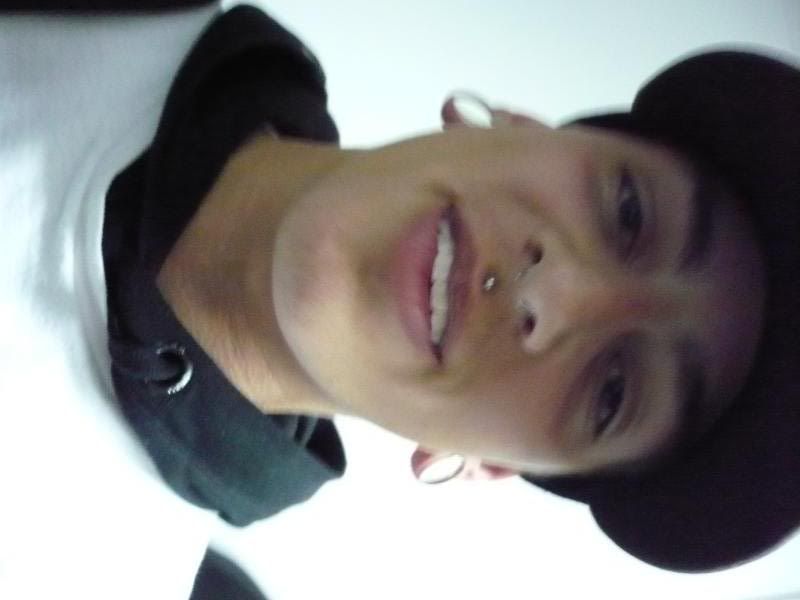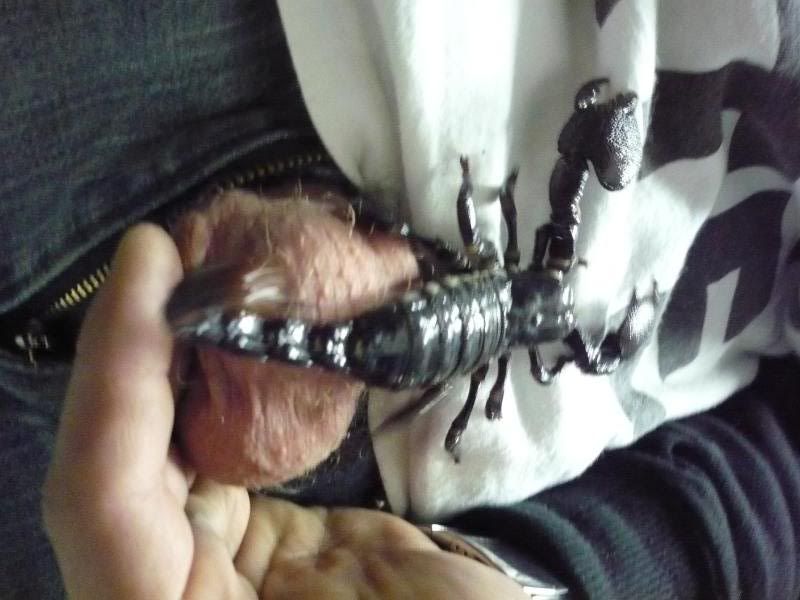 Kenny and JFK in a little lucha libre wrasslin match on the way to the bar. Looks like Kenny is gettin his before the bar.
Why not open up the bar with the now classic face?
JFK droppin some serious knowledge on Nick
Classic Dan Don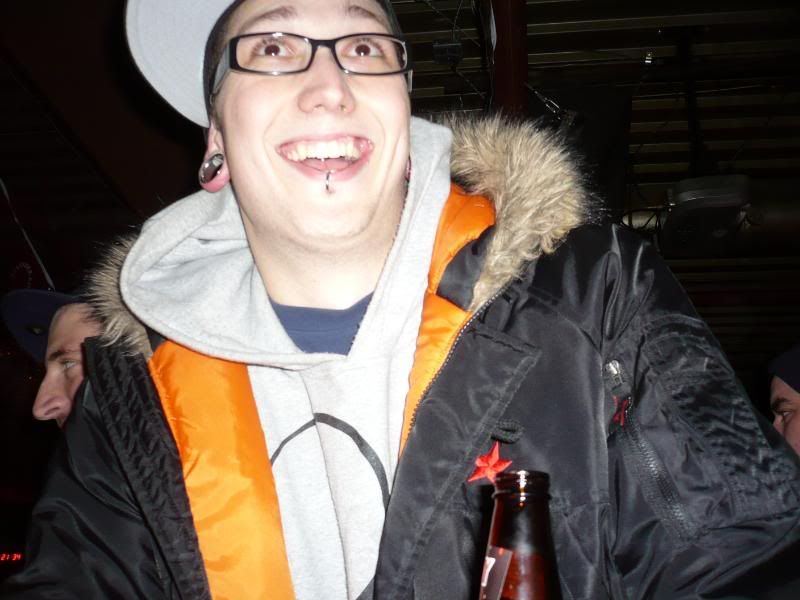 Straight up...sweet bros.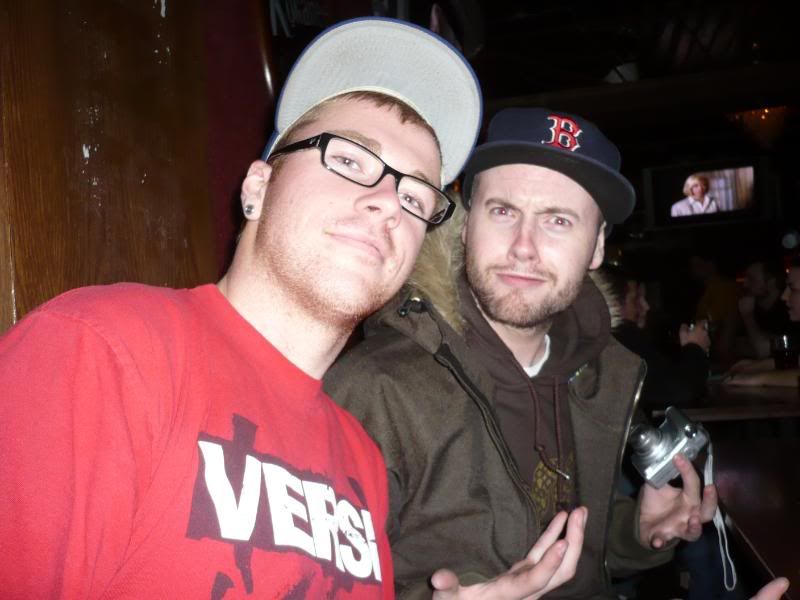 Lots of love and lots of straight edge in the next couple pics...guess who is who.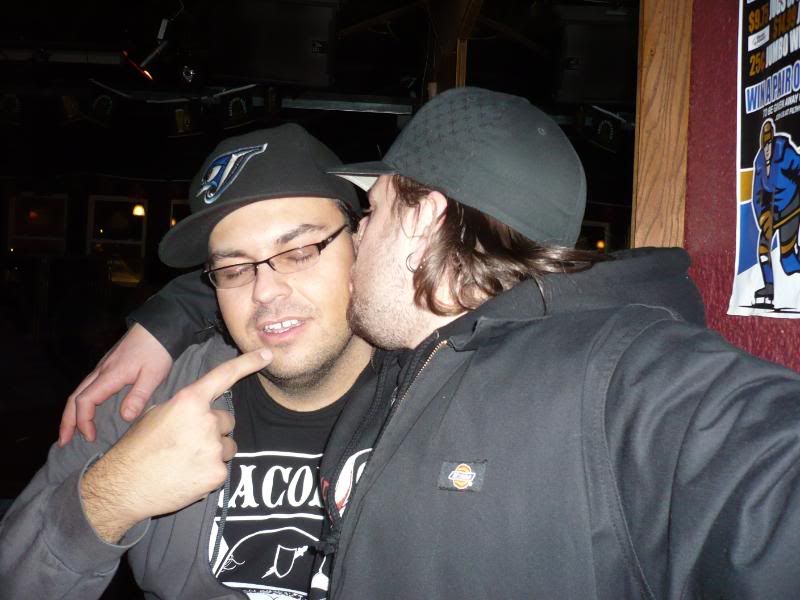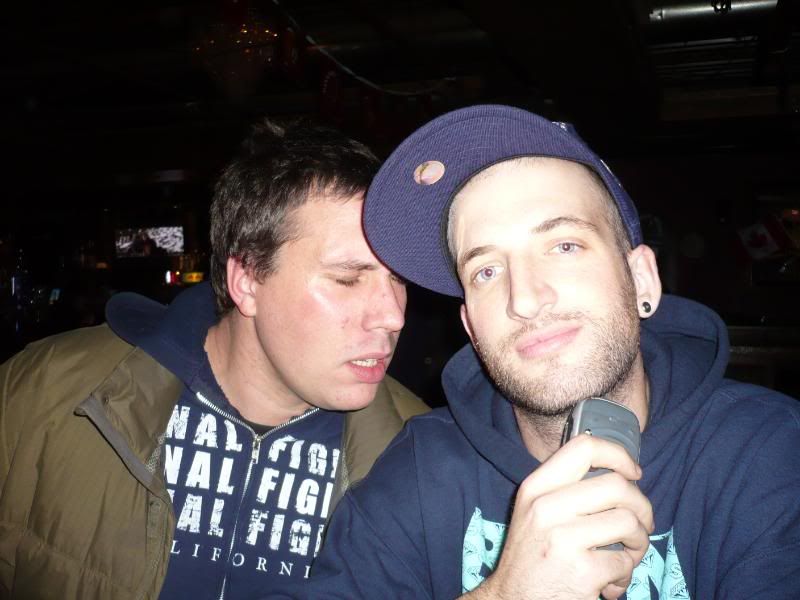 Sometimes Kenny gets high and some pretty serious shit happens.
This girl is rockin a new ALX pin and is clearly blown away by that jam Kenny belted out.
The one and only Matt posin with the babes...party crashed by the sweetest dudes!
Whyte ave shenanigans and me birthing a sweet dude!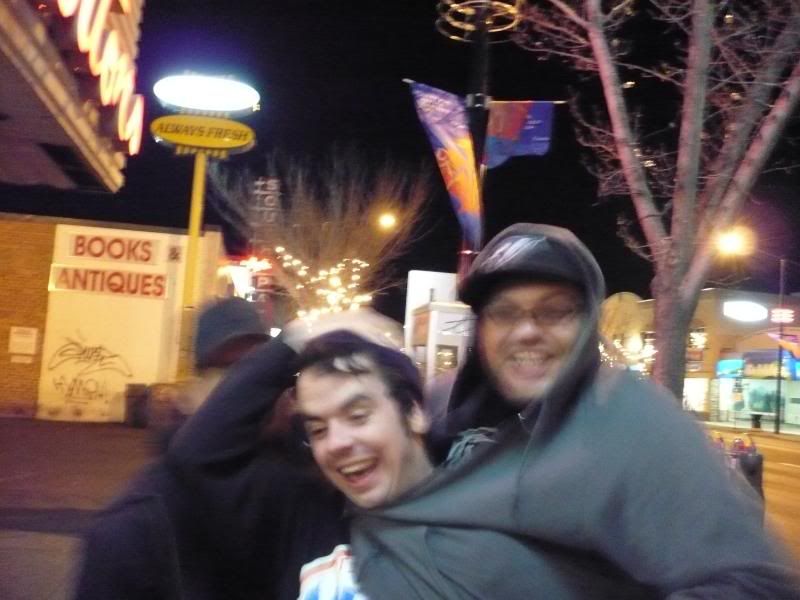 Sometimes life won't wait...
That was the end of the night and we got to sleep in a bit before headin to Saskatoon. The roads were good to go which was pretty nice. We rolled up a bit early and found out that Saskatoon will fuck with your head. Case in point.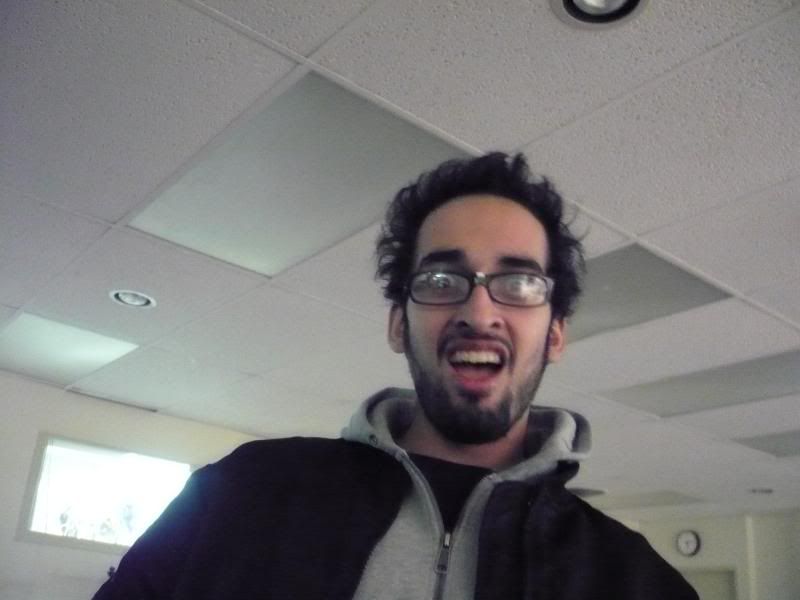 A little pre show/food pump fest starring Kenny and Puddy. Guest appearance by the king.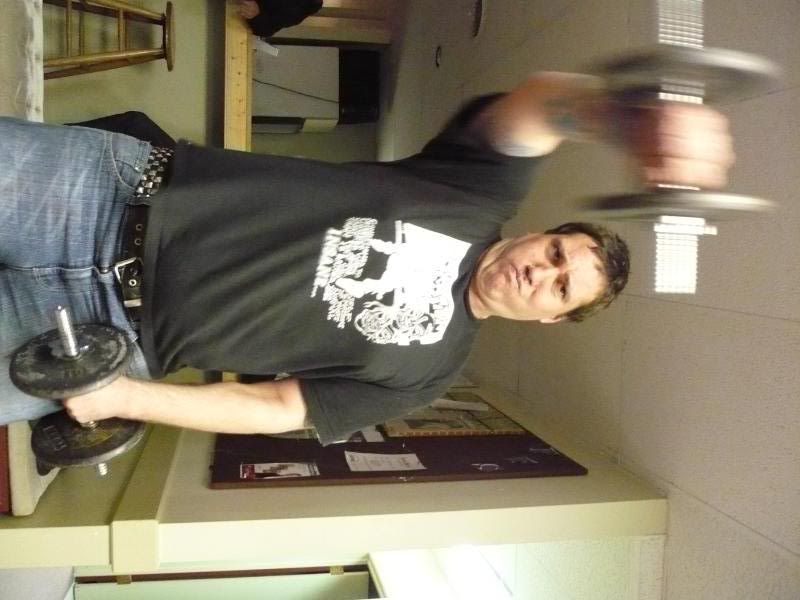 This is a nacho grande burger with fries and salsa...in case you're wondering. Kenny ate it and loved it. A real meal.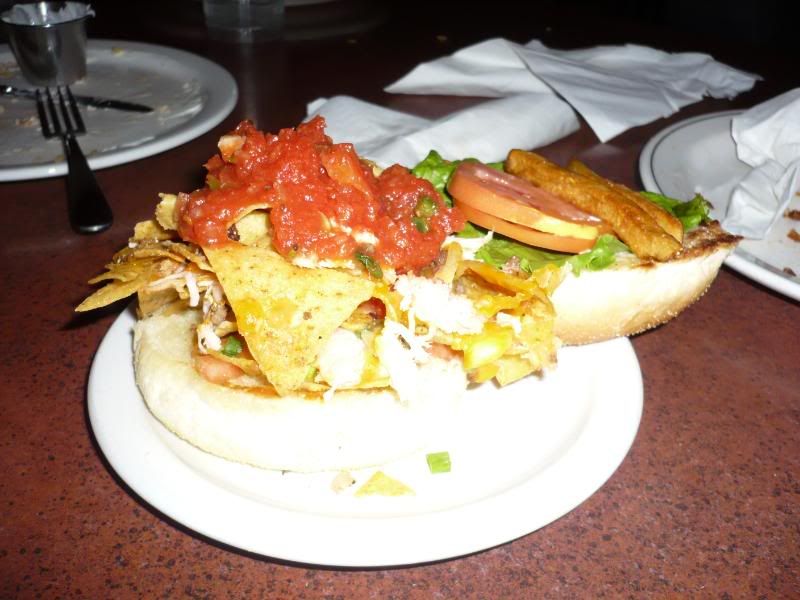 Not everyone gets to celebrate Christmas the right way.
This band straight up confused me.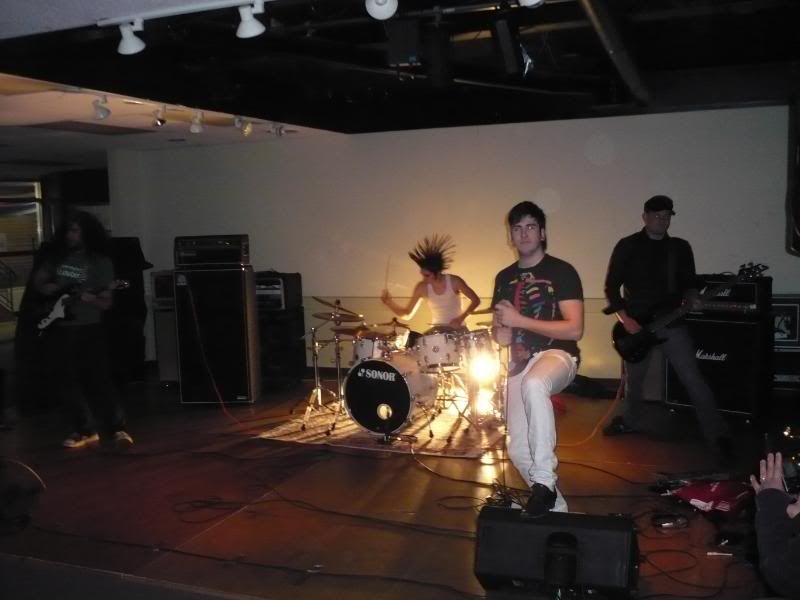 The show in Saskatoon was alright, but it had some classic characters at it. High point was this dude that Nick dubbed Fubar and his bro. His bro came to the merch table and after a barely understandable exchange he ended up buying all the discs that we had. Then Fubar wanted to buy a disc and his bro proceeded to tell him "if you suck my dick, maybe I'll burn you one". Solid gold. We then headed back to Jennie's place...but not before leaving a classy trio of drunk girls without anyone to go home with. It's nice when people still live with their parents since the houses are usually nice. The party dude showed up, bud light cowboy hat and all.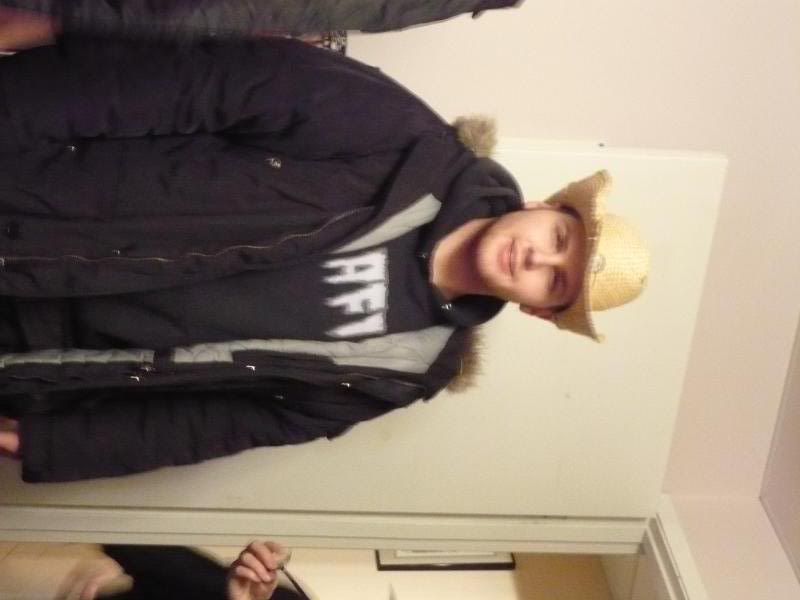 Everyone's favorite dyke also made an appearance.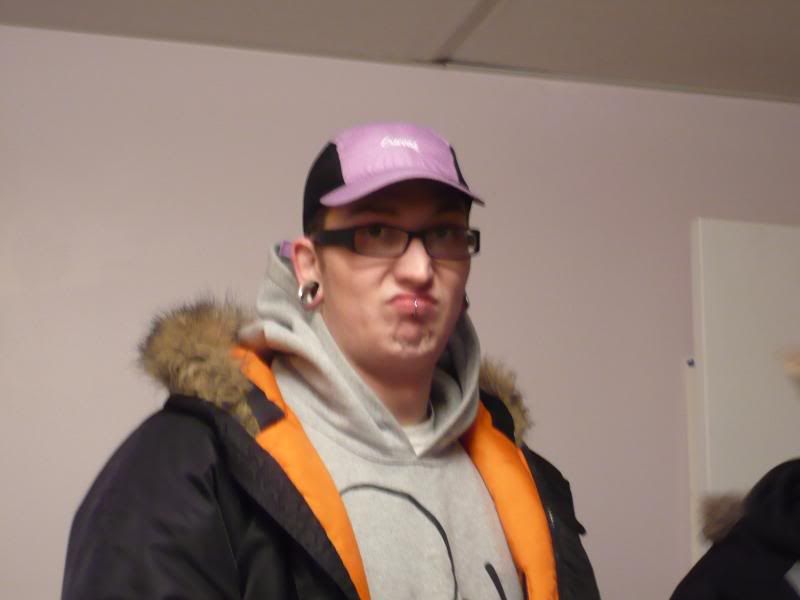 For some reason 2girls1cup.com came up and a bunch of the crew hadn't seen it. Here are some reactions. Watch it with caution.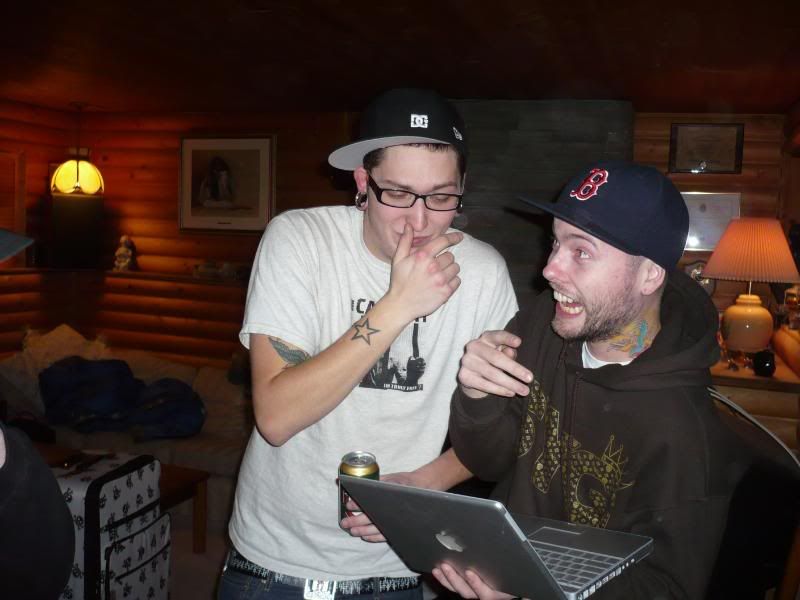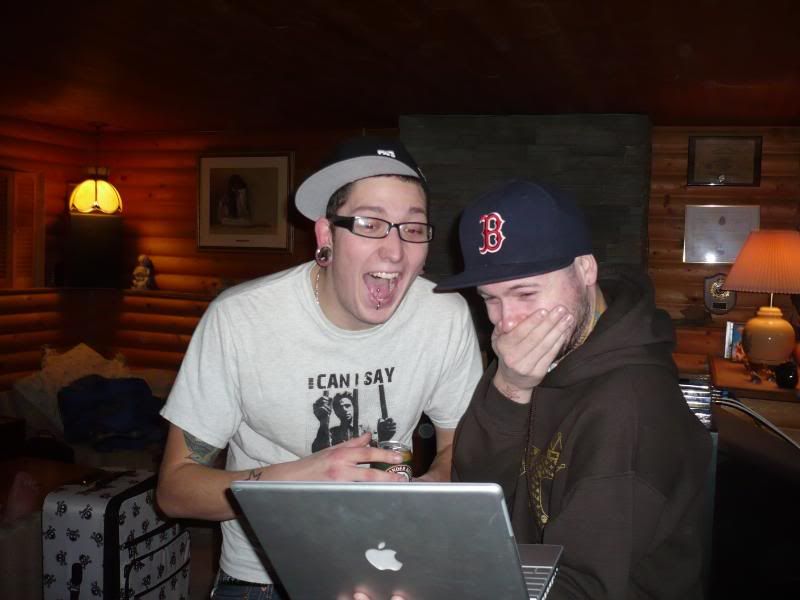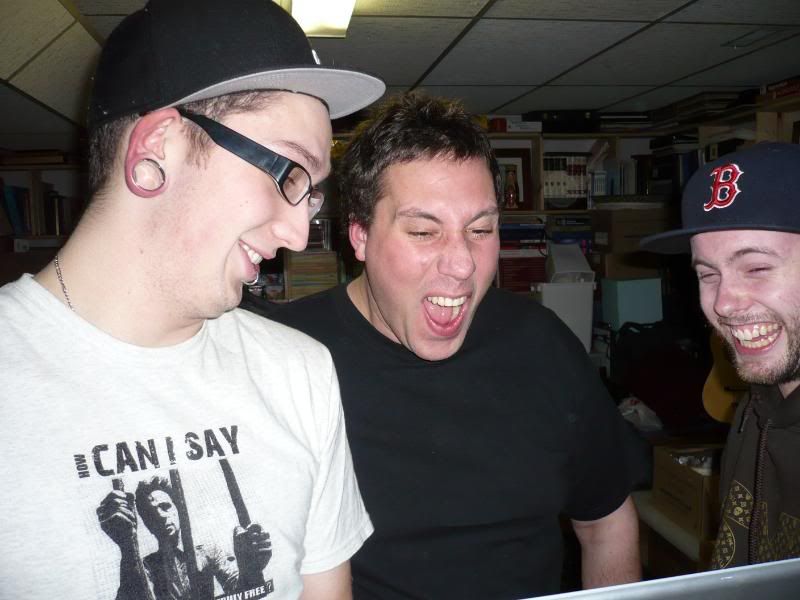 The morning started out with the craziest breakfast. Jennie did it up HUGE. She made special vegan pancakes for Puddy and this guy. The rest had pancakes, french toast and bacon. Fresh strawberries and delicious syrup rounded out the meal. After that more hilarity ensued. Cody was pretty good with the arm crutches/stilts.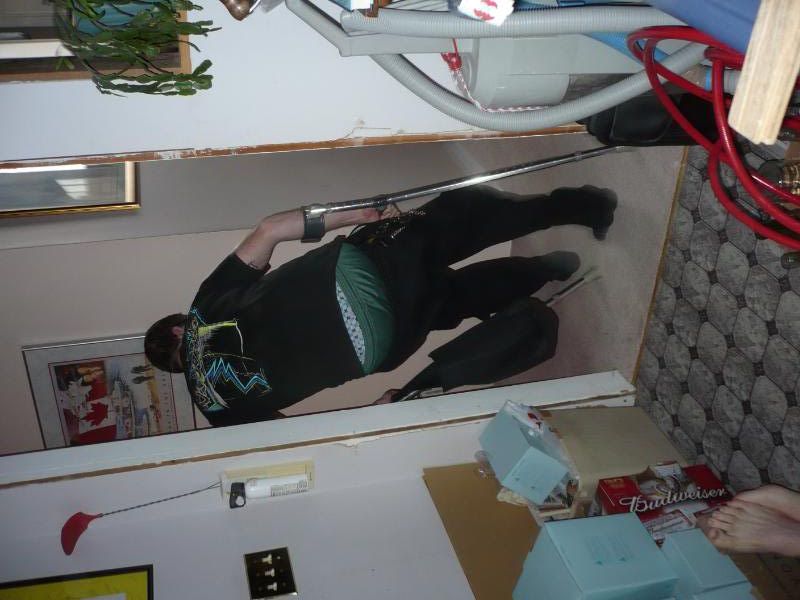 He then decided to bring it pretty hard.
Sometimes when you're in rural SK you just have to let the world know that you're the champ. It's pretty simple.
See you everyday...but it never gets old.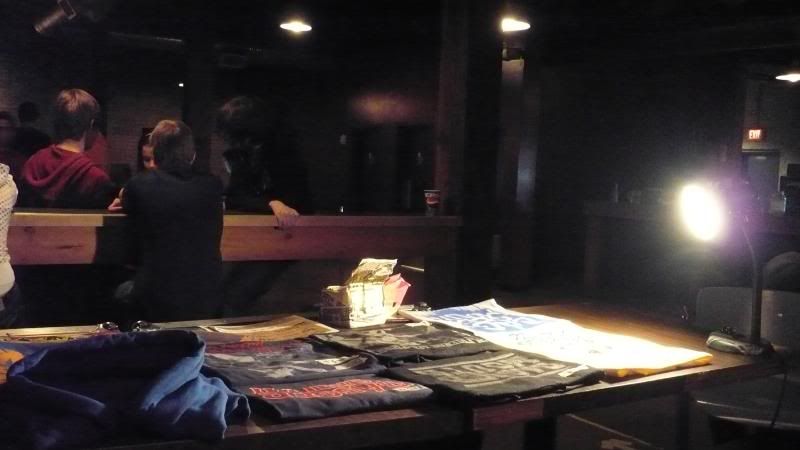 It's a new look and caught a few off guard.
Life on the road...even though it's short it's still necessary to be all up in the TM world.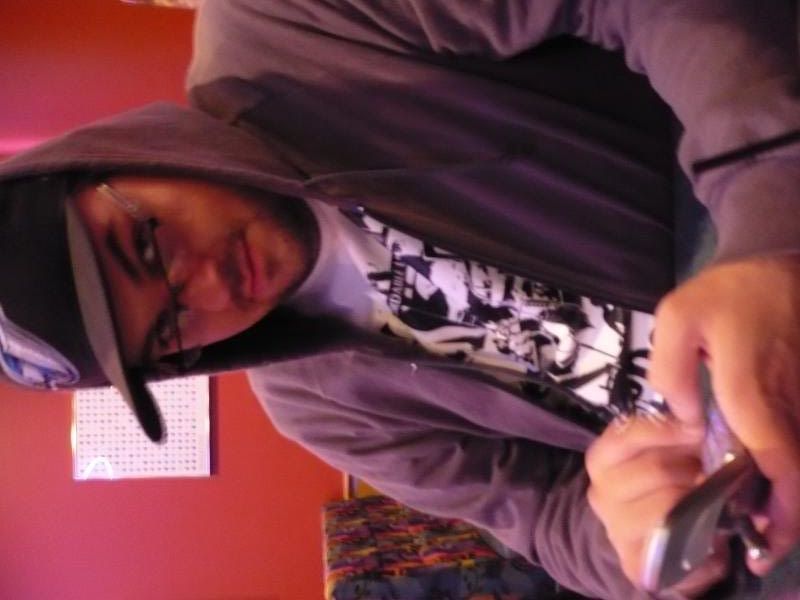 Ingrid is stoked to make an appearance. It's been a minute and blond = yes.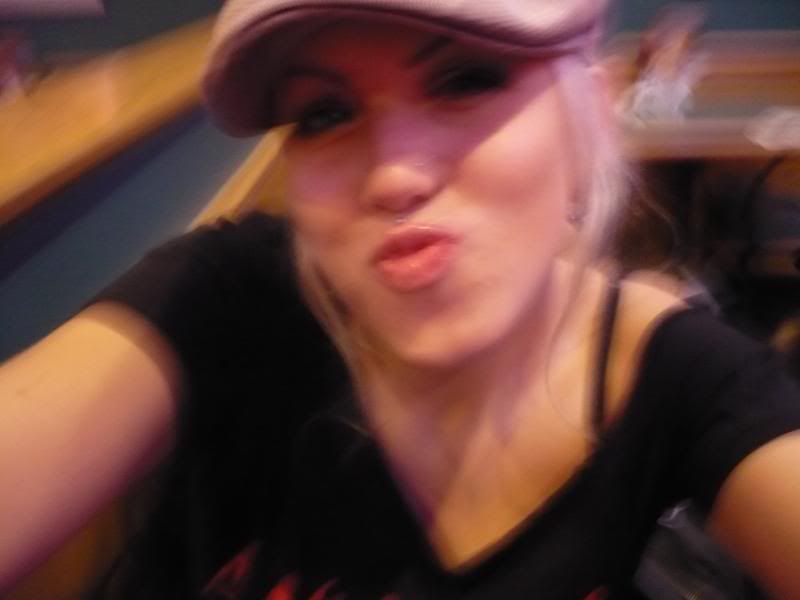 Jars is droppin some serious knowledge at BP's. Puddy couldn't even talk. I can't even begin to explain it. Lets just say that RBS rules his life. Not the worst thing though.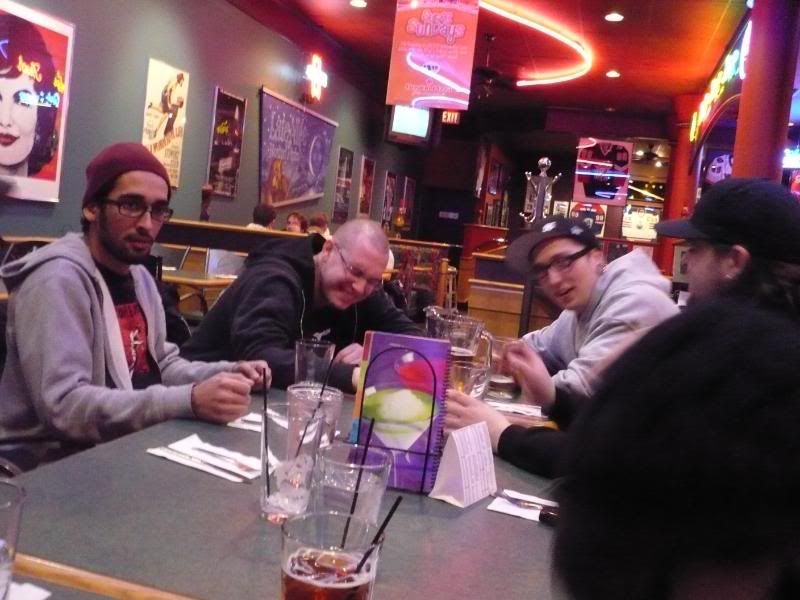 I was also getting TMs from someone who turned out to be a random dude. He wanted to do lots of things with me. Magda found out that it was a dude...he stopped TM'n after that. It was entertaining for a little bit. How bout a new look?
Matt from Means hooked us all up with a place to stay. Sleeping in til noon is the way to go. We decided to grab some food before we left. The night before Juicy Juice took Soupy and I to the 13th ave cafe for some delicious veggie burgers so we took his advice today. Here is the pineapple yellow curry dish we had. There were a couple other tasty ones, but hunger got the better of me.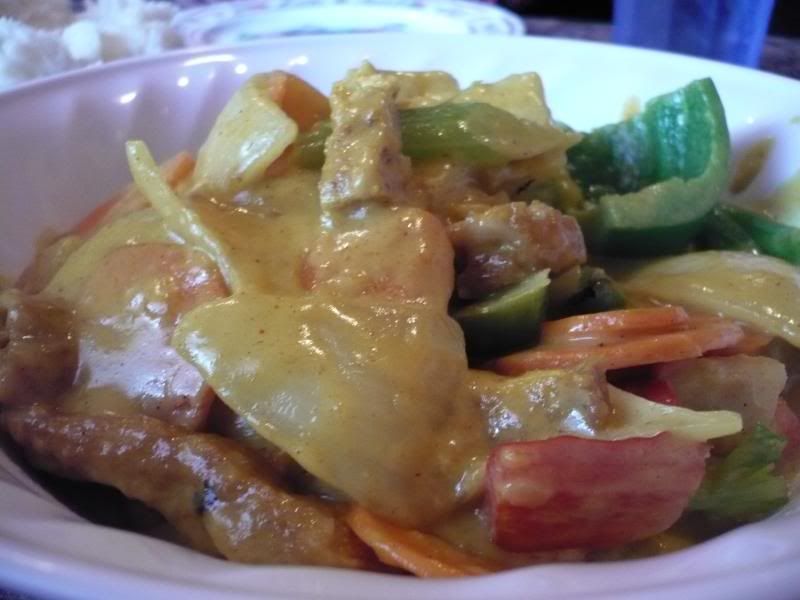 The king was ready to take care of some serious business.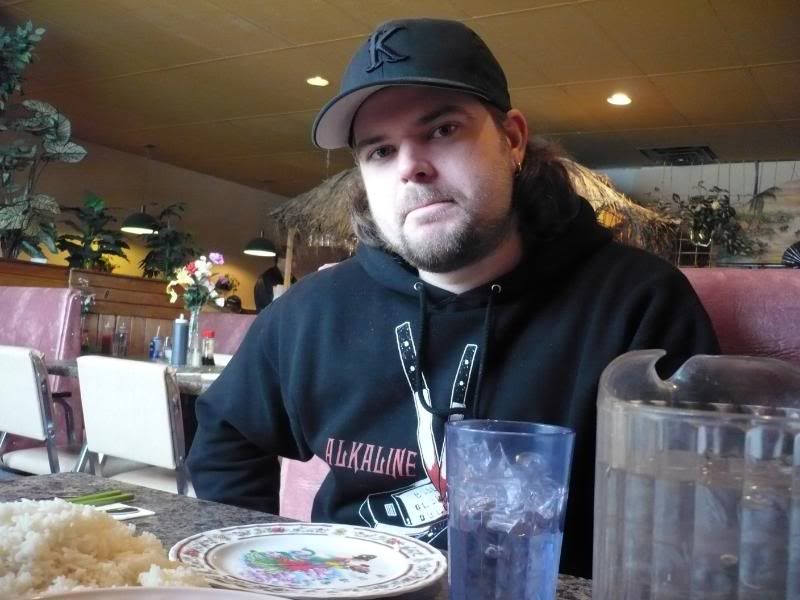 Now for Dave's food. He started with the brain.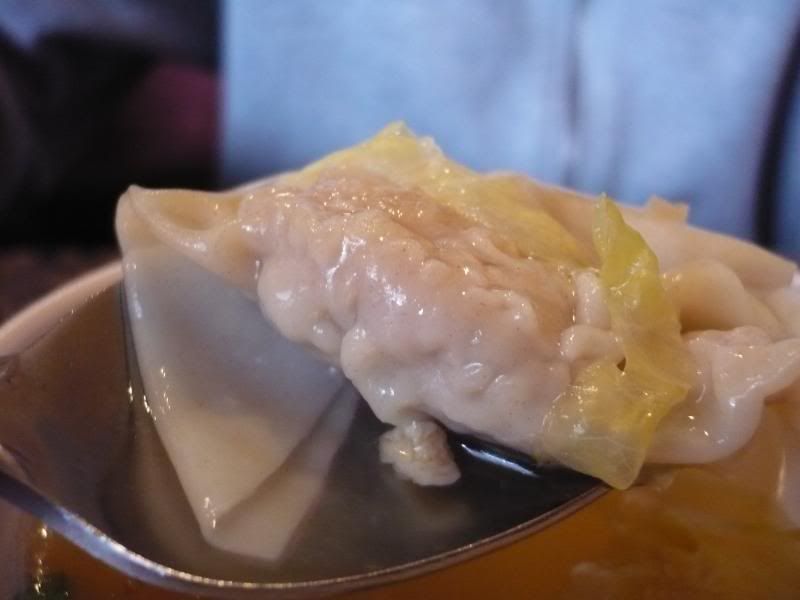 It looks like he is enjoying it.
Four chicken balls.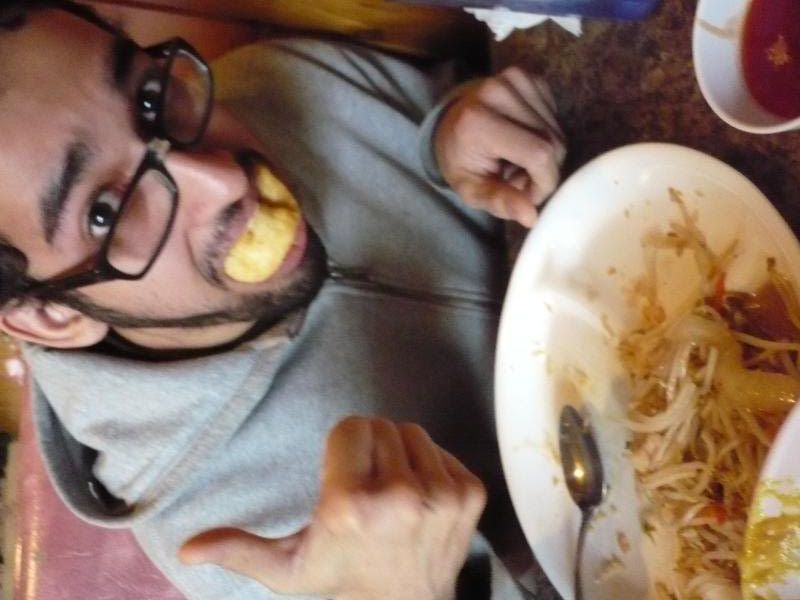 Jars doesn't just hold it down in Winnipeg anymore.
The show in Brandon fell through so we just headed right back to Winnipeg and our own beds. The last show of tour was at the albert and as per usual there were some classics there. On this night it was the king of metal. He asked a few people if they wanted to taste the elbow and then proclaimed that we were all pussies. An XL hoodie is not big enough for him apparently...so not big enough that Matt got a fuck you and the king of metal stormed out. Basically amazing.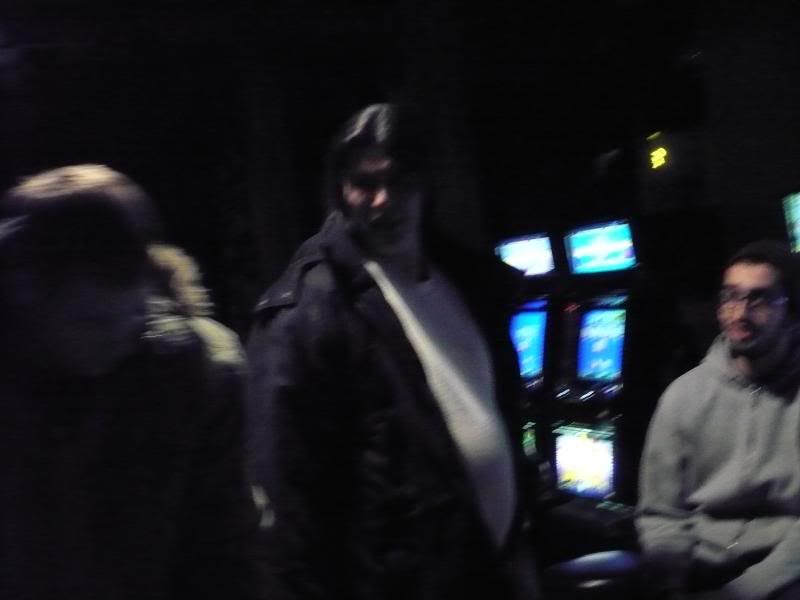 It was tough to say goodbye to the Daggermouth dudes. Even though it was a short stint, it was just an all around amazing time. Make sure you check them out if they are coming anywhere close to you. http://www.myspace.com/daggermouth We'll share some bucks again Nick, hopefully sooner than later. We all know it's hard to play a show without it. Also, a big fuck off to my phone for deleting EVERY contact in my phone book. That was kinda the worst. It's basically fixed now though...still not happy though. Back to the everyday grind for me now. Thanks for takin the time to see my first use of video! peace.